Gravity, Australia's luxury co-working model
Written by

Cameron Carter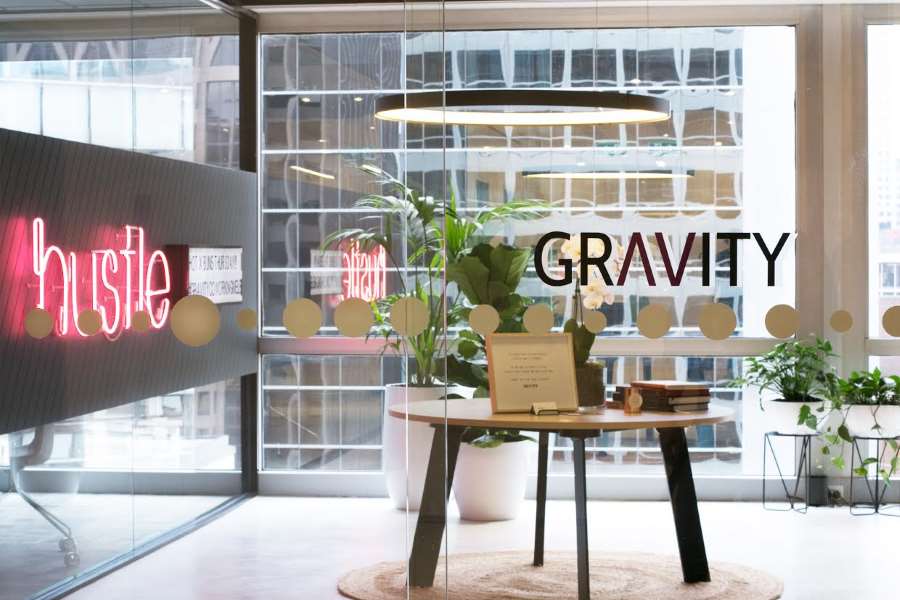 Melbourne, Monday 4th April, 2014
- Gravity, Australia's luxury co-working model, has opened its third boutique inner-city office, located at 114 William Street, Melbourne CBD. 
Gravity Melbourne, designed by award winning interior architect and creative director of Valmont Jacqui Esdaile, retains a number of the now heritage cornerstones of the Gravity brand, including Australian grown timbres, polished concrete flooring, and Stylecraft furnishings throughout. 
"The design of Melbourne is focused on creating a space that fosters togetherness, a sense of community, and above all is professional and dynamic, with a Melbourne-specific flavour that's quite directional," says Esdaile.
Situated on level 13 of the CorVal-owned 114 William Street tower, between Collins and Bourke Streets — the heart of Melbourne's legal and financial district — the superbly appointed co-working environment offers the unique opportunity for its members, and their businesses, to infiltrate and operate in new states and territories, from the trusted security of the luxury stable. 
"We knew that we wanted to connect the dots along the Eastern seaboard from the outset. Next we'll look to Perth, so our members can proudly do business Australia-wide," explains Esdaile.
Gravity is widely recognised as the business persons co-working choice and launched in April 2014 with its upmarket flagship located at 50 Carrington Street, Sydney. The brand expanded in July 2015, opening a second locale in Brisbane's CBD, at 140 Creek Street. 
Antonluigi Gozzi, managing director of Live Hire, Australia's first labor market where workers and employers come together via Google, is a long standing Gravity member, and he's embracing the Melbourne office opening. 
"We're excited about Gravity opening in Melbourne. The atmosphere is fun but professional, which is a great icebreaker for new applicants coming in to meet with us. I have a 20-person team sitting in Gravity co-working spaces, and we'll continue to grow with the Melbourne office opening." says Gozzi. 
114 William Street
The CorVal-owned 114 William Street is one of Melbourne's most popular office buildings for both tenants and investors owing to its prime central location, high-profile corner position, timeless architectural design, and recent sustainability upgrades. 
The striking 26-level asset provides approximately 21,022m* of high quality office and retail accommodation, with a flexible central-core floor plate design. A recent capital expenditure program incorporating ground floor foyer upgrade, several full for refurbishments, sustainability initiatives and brand new state-of-the art End of Trip facilities, had repositioned the building, resulting in strong leasing activity.