Prying Eye brings 'Wolf' to the Adelaide Fringe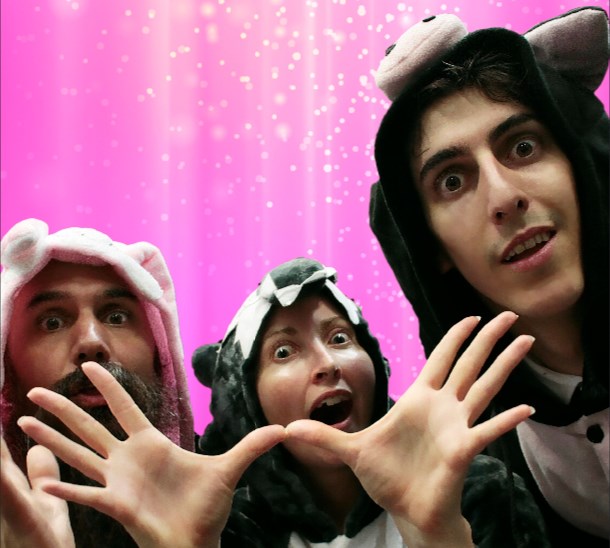 Who's afraid of the Big Bad Wolf?
Prying Eye Productions' rollicking new show is motivating people to change their perceptions about mental health as well as contemporary dance!
Adelaide expats and directors' of Prying Eye, Lizzie and Zaimon Vilmanis, are returning to Adelaide in 2018 with their resonating new dance theatre and comedy work, The Inquisition of the Big Bad Wolf. Hot off the tail of its February premiere at Supercell (Brisbane's new contemporary dance festival taking the world by storm), 'WOLF' will be brought to life for Adelaide Fringe from February 21 to March 4 at Tandanya Theatre. A work that you can't forget for all the right reasons, it's set to be the next big hit of the Fringe!
"This is contemporary dance, but not as you know it. Interdisciplinary works are all the rage at the moment, and this talented company have nailed the brief, fusing dance, theatre and performance art into a great big hilarious wonderland." - Nadia Jade, Nothing Ever Happens In Brisbane
The show makes the often-uncomfortable topic of mental health approachable. Today's society imposes expectations that lead to great anxiety; Prying Eye illuminate this issue and ask, how far we are willing to go to keep up appearances even when things around us are falling apart? What are we afraid of when it's not going according to plan? How do we manage our fears and insecurities? What might happen if we unleash our emotions and set ourselves free from expectation for one brief moment?
In The Inquisition of the Big Bad Wolf well-known wolf tales get re-imagined within today's world. A microphone, crazy costumes and plenty of ridiculousness converge in a glorious ode to chaos and control. 'Normal' gets flipped upside down as anxiousness hovers in the air like a relentlessly buzzing mosquito until the untamed inner wolf gets unleashed.
Lizzie Vilmanis says, 'We love how audiences get involved with this show. We find they can't resist joining in the ecstasy of 'roaring and hoofing and horning' with us and reach the end feeling really liberated.'
The subject matter is treated with respect and integrity, through expert consultation made possible through partnership with the Queensland Alliance for Mental Health.
For those who are not traditional fans of contemporary dance, this independent company has a knack for altering such perceptions with their works of impact. Vivid audience testimonies were received in response to Prying Eye's last work, White Porcelain Doll.
"It was amazing!! So riveting and powerful, I was mesmerized! Glued to the spot! ... I bought my mum along... And she's still going on about it!!"
"My husband doesn't normally connect to dance works, but this one he keeps telling all his work
colleagues about because he thought it was so powerful."
Don't miss 'WOLF', another striking and powerful work from Prying Eye.


PERFORMANCE DETAILS
Venue: Tandanya Centre: tandanya.com.au Dates: 21 Feb – 4 Mar 2018
21st - 25th February 9.30pm; 28th – 4th March 8pm; 3rd March 1.30pm (matinee)
Run time: 60 minutes
TICKETS: https://www.adelaidefringe.com.au/fringetix/the- inquisition-of-the-big-bad-wolf-af2018
Ticket prices: Full: $25, Conc: $22, Child: $15, Family: $60, Group (6+): $18, BankSA Customer: $18.75, Fringe Member:
$18.75, Pass Holder: $18.75, YEP!: $15
*The Inquisition of the Big Bad Wolf is a BankSA Support Act Accessibility: http://30x30.com.au/site-guide/tandanya-theatre/
SOCIAL MEDIA

Twitter: https://twitter.com/pryeyepro
Facebook: https://www.facebook.com/pryingeyeproductions/ Facebook Event Page: https://www.facebook.com/events/377770062663570/ Instagram: https://www.instagram.com/prying_eye/

Prying Eye Productions receives funds from Creative Partnerships Australia through the Australian Cultural Fund.