Written by Modern Australian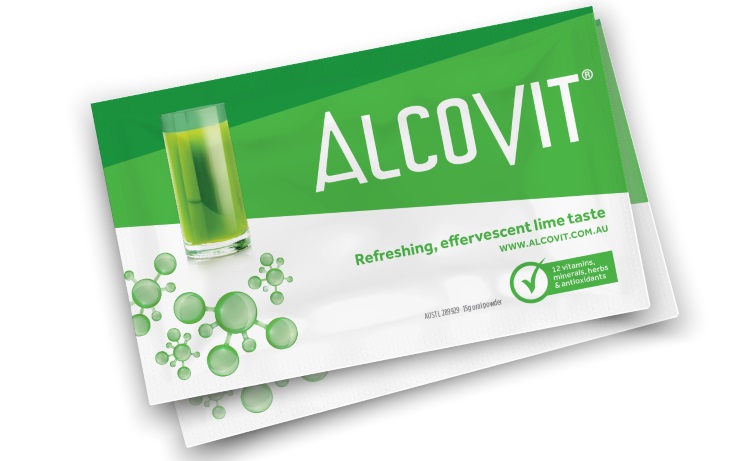 Here we go a "new hangover cure", sure thing whatever.
Alcovit Australia states from the start it is NOT a Hangover Cure, it is NOT something that allows you to drink your weight in booze, without consequences. Nor will it stop you from being hungover. Once you have been poisoned, it time rest and fats food. Alcovit is a prevention take before bed.
Alcovit you might not be aware of is a European product that is now available in Australia for a little while. The launch of a new website that happened in December just in time for Christmas and New Year's. It displays a brain behind a glass of green liquid and some really interesting imagery a punch line that Hangovers Prevented by Science.
The most interest aspects are the reviews and feedback left by people about this product, one of which states:
"I'm Asian and I get the Asian Flush whenever I drink anything alcoholic. After taking Alcovit 30 minutes before my first drink, I had eight drinks at a party and I didn't feel the effects of the flush or have a hangover at all. Highly recommended"
Alcovit was developed and perfected over the course of 25 years, preventing hangovers, by detoxing the body of toxins that cause the hangover. Take Alcovit before, during or after consuming alcohol.
"We are very pleased to be taking this next step as a company to expand our brand's reach," said Mr Brett Mainon. "Now the Alcovit website is now in place, we have tested and sampled and promoted the product. We are working to making sure that people are aware of Alcovit and it being available where and when people need it.
We are currently pushing Alcovit's availability into retail stores to reach as many people who may never have otherwise heard of Alcovit."
Alcovit contains high quality vitamins, minerals and antioxidants that are designed to avoid the harmful side effects of drinking alcohol. Working to reduce the toxins that build up when alcohol is process by the liver.
"Now people who enjoy drinking alcohol have a natural means of avoiding some of its nasty effects the next day, meaning people can enjoy a night out, drink normally, without fear of feeling really bad or missing work or responsibility the next day.
"We believe people in the Australian market will greatly appreciate the benefits of this drink. We stand by this product so much, that if drinking normally and don't get a result, we will give your money back".
"We are pleased to announce that Alcovit is now live for sale at Alcovit.me," said Brett Mainon, holder of the exclusive right of Alcovit for Australia and New Zealand. " But our growth and availability into retails stores and our new partnership we are most excited news to date. Alcovit is now available in a number of IGA, Cellarbrations, Liquor Barons and Bottle –O stores for everyone to try and experience the amazing results.