How to Create a Practical and Eye-Catching Laundry Room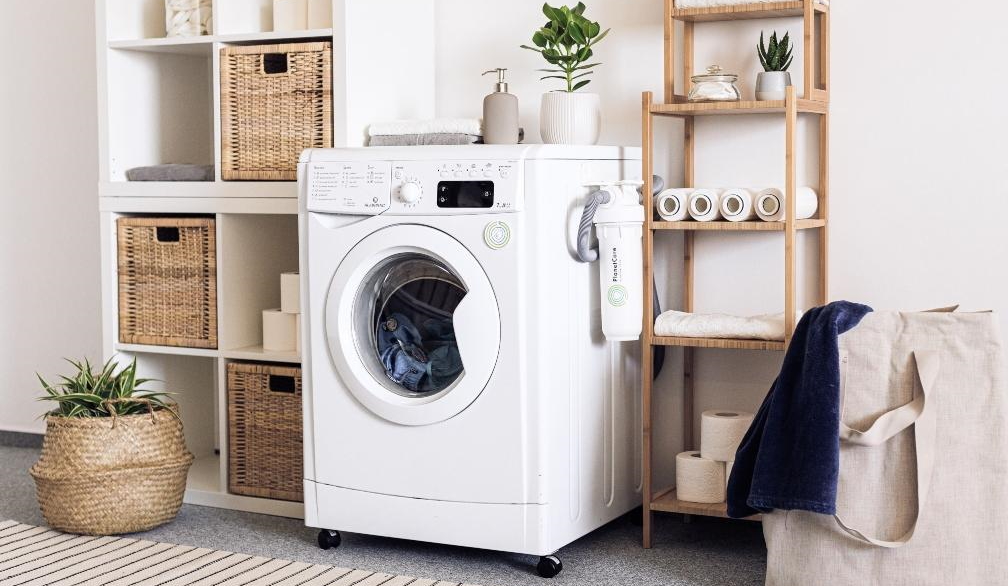 Did you know that the average western family does almost 300 loads of laundry every year? Since we spend so much time washing our clothes, it's only natural to invest a lot of time into designing a practical laundry room that will be both efficient and beautiful. If you never gave two thoughts about any laundry room, here are a few tips that will help you design a good space without too much research and trouble.
Consider the layout
Depending on how much space you have reserved for your laundry room, your layout will definitely make or break the functionality of the space. For those struggling with square footage, designers usually recommend stacking the appliances and taking a vertical route. This way, you can have your washing machine on the bottom, a dryer on top of it (make sure your appliances are designed to be stackable), and even some laundry baskets near the ceiling. If you have some space left between the wall and the appliances, you can always use it to store thin items like your ironing board, drying rack, or ladder.
On the other hand, if you have plenty of space to work with, you can freely spread out your appliances and get flat surfaces on top of them for sorting, folding, or ironing your clothes.
Install a sink
A sink in the laundry room will serve you hundreds of purposes, from soaking heavily-stained clothing to washing shoes, rinsing paint brushes, and potting plants. People who opted for this addition to the laundry room are very satisfied with a large utility sink combined with a detachable faucet. If you have a family pet, a small doggy tub or shower will make bath time so much easier for everyone involved.
Opt for proper appliances
Once you have the layout and the water source down, you can start choosing your appliances. This is probably the most fun part because modern appliances are very exciting, impressive, and beautiful. Depending on the size of your family and frequency of washing, you can opt for bigger or smaller capacity washers. Shorter people usually love models that load from the front, but taller ones might even consider those that load from the top. When it comes to your dryer, make sure to opt for a quality dryer model with smart functions. Ensure you have quick-dry cycles and hygiene care + programs at your disposal. There are even smart washer/dryer combos perfect for those who don't have space for two large appliances.
Add some lighting
Most people choose to place their laundry room somewhere within the house, in a room that's usually windowless or oriented in a weird way. And you know that doing laundry in the dark is impossible—you don't want to accidentally mix colors and ruin your clothing. To add some light to your laundry room, you can go with stylish pendants hanging over your folding station. These are not just practical for completing tasks but are also very attractive and modern.
Use woven laundry baskets
We're all collectively sick of plastic, so you don't have to push it into your laundry room as well. Instead of plastic laundry baskets, you can opt for something more natural, like woven rattan or wicker. These are just as sturdy as plastic, yet they are much more attractive. And you can use them not just for dirty laundry but also for hiding detergents and fabric softeners to get that clean, tidy, and uniform look in your laundry room.
Cover up the clutter
If you don't have space to introduce stylish laundry baskets to your laundry room, don't just leave your bottles and tubs all over the place—this will make your space look chaotic and feel much less efficient. Instead, use a skirt to hide products under the sink, workstation, or ironing board to get that sleek look in your laundry room.
Solution for small households
If you don't have enough space to have a designated laundry room, don't worry. You can easily combine your laundry room and a home office, storage area, or crafting space. This way, you'll get two rooms for the price (and square footage) of one and still enjoy plenty of practicality in both. If you have a newer washer and dryer, the noise will be minimal, so you'll get to focus freely on your work or art.
Once you design your laundry room according to these tips, you'll be wondering how you even managed to live without this useful room before. Laundry chores will be so much easier to pull off and you'll actually look forward to freshening up your clothes.