Claire Thomas's The Performance triggers burning questions
Written by

Cecily Niumeitolu, PhD Candidate, University of Sydney
Book review: The Performance by Claire Thomas.
Theatre and its constant recreation, allows for the possibility of the political. Sometimes this is manufactured by directors as they place a loaded question on stage. Sometimes it occurs as an unexpected interruption to the usual flow of a performance.
Claire Thomas explores the possibility of both in her new novel The Performance.
Historically, Samuel Beckett's Waiting for Godot (1953) has been a rallying point for theatre practitioners and audiences living through a state of crisis: waiting through incarceration, dispossession, racial segregation, or the wake of environmental disaster.
But what if our waiting for tomorrow succumbs to an earth that waits for no one?
At the centre of The Performance is another Beckett drama, Happy Days (1961).
Winnie's tangential recollections and gestures on stage reverberate into the perspectives and memories of three complex women stuck in the auditorium, watching the play: Margot, the world-weary professor with a theatre subscription; Ivy, the philanthropist lured to donate more money through the offer of free tickets; and Summer, the usher working under duress.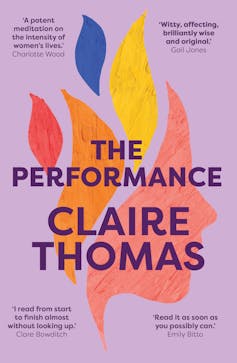 Authors: Cecily Niumeitolu, PhD Candidate, University of Sydney
Read more https://theconversation.com/book-review-claire-thomass-the-performance-triggers-burning-questions-155043