What is a 'mass extinction' and are we in one now?
Written by

Frédérik Saltré, Research Fellow in Ecology, Flinders University
For more than 3.5 billion years, living organisms have thrived, multiplied and diversified to occupy every ecosystem on Earth. The flip side to this explosion of new species is that species extinctions have also always been part of the evolutionary life cycle.
But these two processes are not always in step. When the loss of species rapidly outpaces the formation of new species, this balance can be tipped enough to elicit what are known as "mass extinction" events.
Read more: Climate change is killing off Earth's little creatures
A mass extinction is usually defined as a loss of about three quarters of all species in existence across the entire Earth over a "short" geological period of time. Given the vast amount of time since life first evolved on the planet, "short" is defined as anything less than 2.8 million years.
Since at least the Cambrian period that began around 540 million years ago when the diversity of life first exploded into a vast array of forms, only five extinction events have definitively met these mass-extinction criteria.
These so-called "Big Five" have become part of the scientific benchmark to determine whether human beings have today created the conditions for a sixth mass extinction.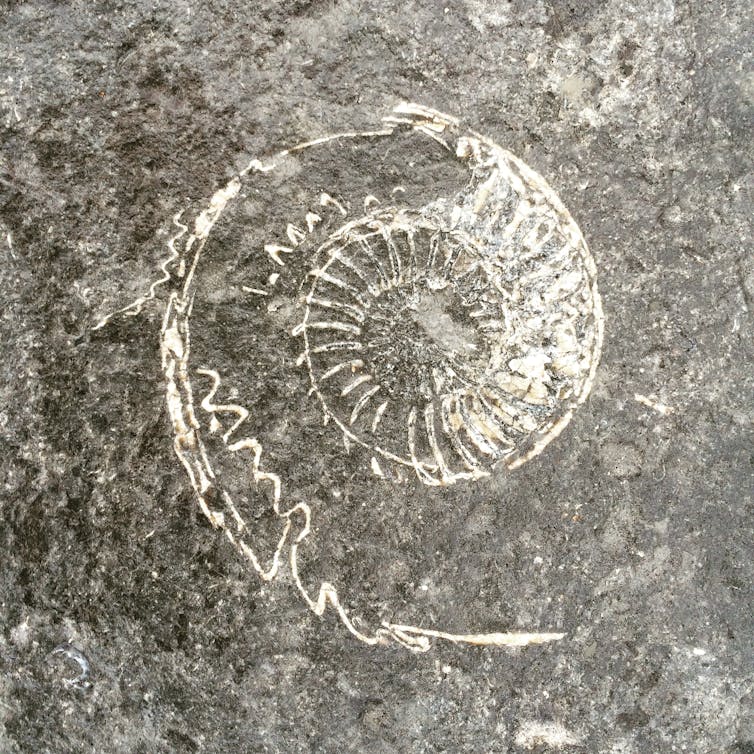 Corey Bradshaw

,

Author provided
The Big Five
These five mass extinctions have happened on average every 100 million years or so since the Cambrian, although there is no detectable pattern in their particular timing. Each event itself lasted between 50 thousand and 2.76 million years. The first mass extinction happened at the end of the Ordovician period about 443 million years ago and wiped out over 85% of all species.
The Ordovician event seems to have been the result of two climate phenomena. First, a planetary-scale period of glaciation (a global-scale "ice age"), then a rapid warming period.
The second mass extinction occurred during the Late Devonian period around 374 million years ago. This affected around 75% of all species, most of which were bottom-dwelling invertebrates in tropical seas at that time.
This period in Earth's past was characterised by high variation in sea levels, and rapidly alternating conditions of global cooling and warming. It was also the time when plants were starting to take over dry land, and there was a drop in global CO2 concentration; all this was accompanied by soil transformation and periods of low oxygen.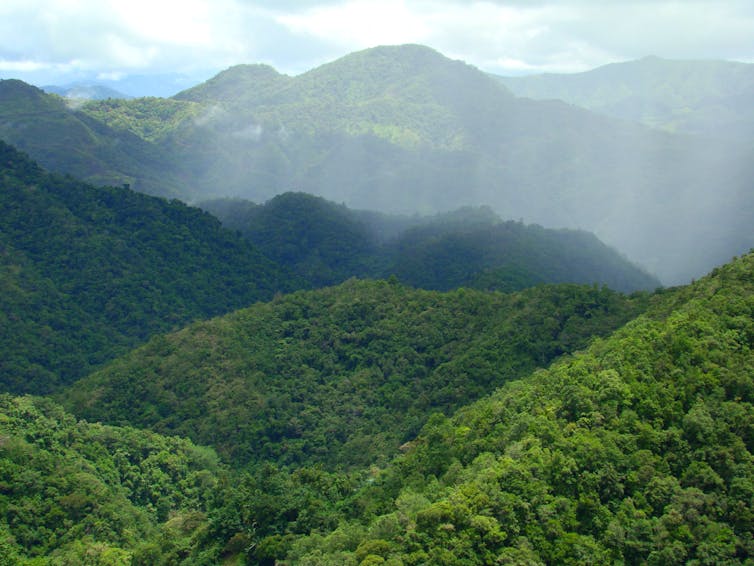 from www.shutterstock.com
The third and most devastating of the Big Five occurred at the end of the Permian period around 250 million years ago. This wiped out more than 95% of all species in existence at the time.
Some of the suggested causes include an asteroid impact that filled the air with pulverised particle, creating unfavourable climate conditions for many species. These could have blocked the sun and generated intense acid rains. Some other possible causes are still debated, such as massive volcanic activity in what is today Siberia, increasing ocean toxicity caused by an increase in atmospheric CO₂, or the spread of oxygen-poor water in the deep ocean.
Fifty million years after the great Permian extinction, about 80% of the world's species again went extinct during the Triassic event. This was possibly caused by some colossal geological activity in what is today the Atlantic Ocean that would have elevated atmospheric CO₂ concentrations, increased global temperatures, and acidified oceans.
The last and probably most well-known of the mass-extinction events happened during the Cretaceous period, when an estimated 76% of all species went extinct, including the non-avian dinosaurs. The demise of the dinosaur super predators gave mammals a new opportunity to diversify and occupy new habitats, from which human beings eventually evolved.
The most likely cause of the Cretaceous mass extinction was an extraterrestrial impact in the Yucatán of modern-day Mexico, a massive volcanic eruption in the Deccan Province of modern-day west-central India, or both in combination.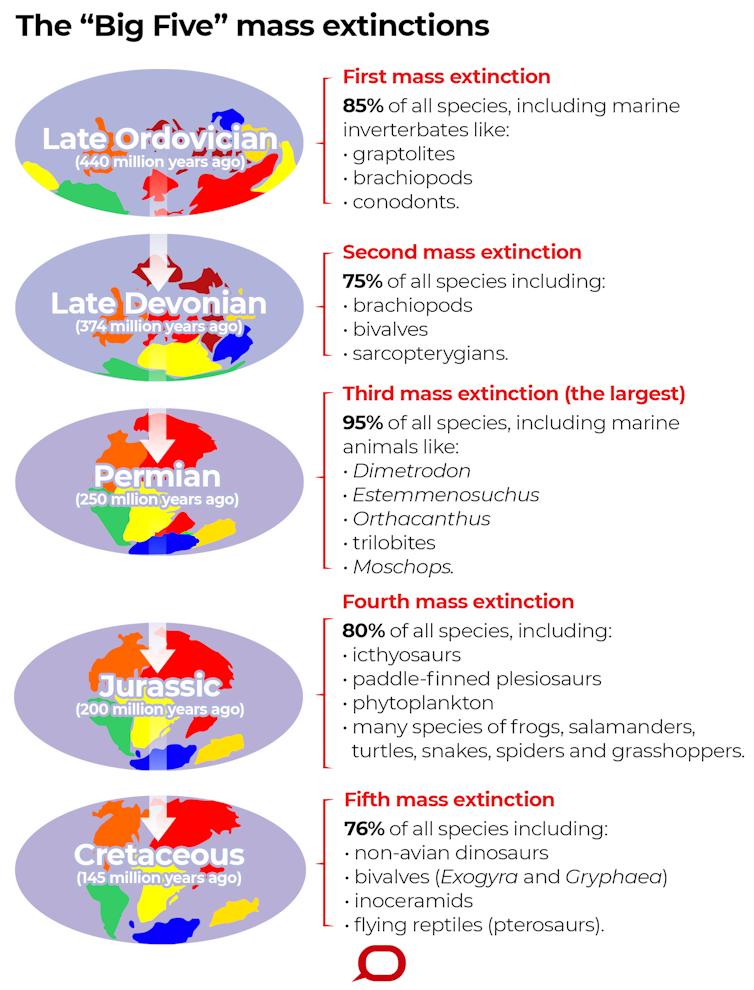 Authors: Frédérik Saltré, Research Fellow in Ecology, Flinders University
Read more http://theconversation.com/what-is-a-mass-extinction-and-are-we-in-one-now-122535