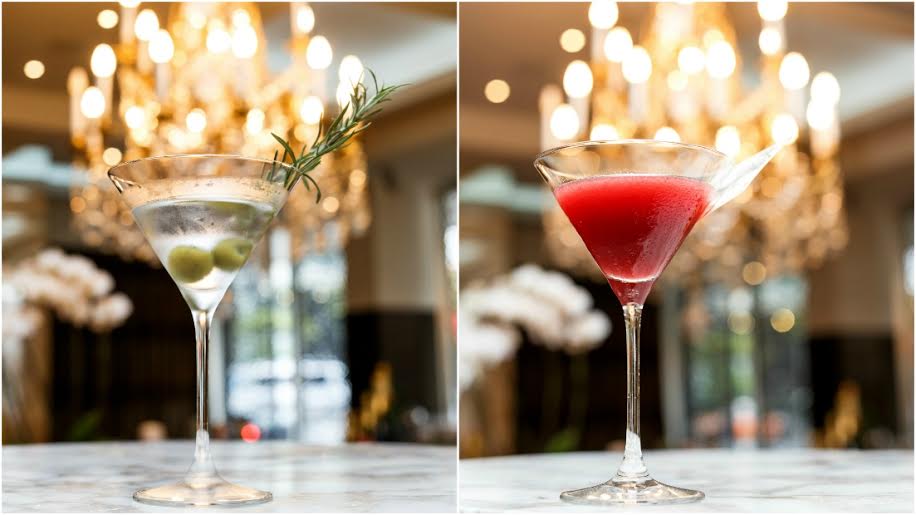 His & Her (or Her & Her, or His & His) Cocktails to welcome Spring
It's the season of love at the award-winning Emporium Hotel Cocktail Bar with Matching Martinis taking centre-stage! Selected and tweaked from the recently launch new cocktail menu, the Matching Martinis are the perfect his and hers, or hers and hers, or his and his, cocktail to sit and sip and welcome Spring!  Each martini features very distinct flavours, with the bar team adding smoked rosemary and olive to one and a fruit flavour combination to the other.
Smoked Rosemary & Olive Martini
Introduced as Mr. Martini, this cocktail is suitable for any sir or lady who enjoys the smooth and sophisticated flavours of Gin Mare, Noilly Pratt Dry Vermouth, Olive and smoked Rosemary.
Queen of Hearts Martini
Originally introduced as Mrs. Martini, this red and vibrant liquid will fire up anyone whether you're a stylish Miss. or a fun Master. It features Absolut Vodka, Massenez Fraise de Bois, Licor 43, Passionfruit, vibrant Berry Compote and Rhubarb Bitters.
Herbs for the cocktail are grown on the hotel rooftop, and honey is lovingly created by the bees which also call the rooftop home. Having recently been inducted into the Queensland Tourism Awards Hall of Fame and with a mantlepiece straining from the myriad awards, the Cocktail Bar is the perfect place to welcome Spring.
Emporium Hotel Cocktail Bar
1000 Ann Street, Fortitude Valley  P: (07) 3253 6914
The Awards:
Inducted: Queensland Tourism Awards Hall of Fame 2014
Winner: Best Luxury Accommodation, Queensland Tourism Awards 2014, 2013, 2012
Winner: Best Hotel Bar in Australia, HM Awards for Hotel Excellence 2014
Winner: Australia's Leading Hotel Residences, World Travel Awards 2014, 2013 
Winner: Australian Hotel's Association, Outstanding Achievement in Training 2014
Winner: Best Luxury Accommodation, Qantas Australian Tourism Awards 2013, 2012
Winner: Best Boutique Hotel in Australia, HM Awards for Hotel Excellence 2013, 2012, 2011, 2010 & 2009
Winner: Best Training Initiative, Queensland Hotels Association Awards for Excellence 2013, 2011
Winner: TripAdvisor Certificate of Excellence, 2013
Winner: Best Small Luxury Hotel in Australia, Gourmet Traveller Travel Awards 2010 & 2009
Named one of the World's Best New Hotels in the International Condé Nast Traveler's Hot List 2008