How to clean glass pool fencing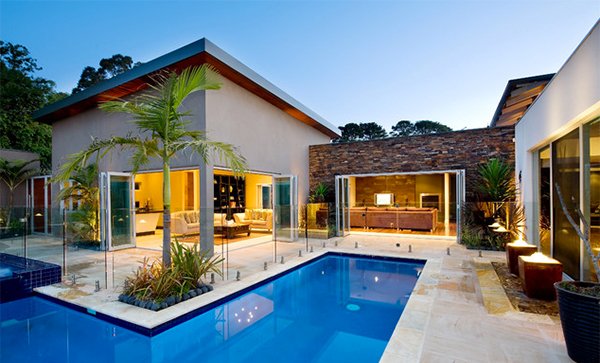 In recent years, glass has become a popular choice for homeowners who want their pool fencing to look as good as it functions. Although glass is one of the most aesthetically pleasing choices of material for pool fencing, cleaning is one of the main concerns that may dissuade people from using glass fences.
If you are one such homeowner who is worried about cleaning their glass pool fencing, you will be pleased to know that cleaning glass fences is very easy. The glass used in pool fencing is the same glass that is used in the windows of your vehicle and house. There are several options available for cleaning glass pool fences, some of which are mentioned below.


Hose
One of the easiest options to clean your glass pool fencing is to simply hose it down. The stream of water removes any dust or debris stuck to the glass surface and makes it easy for you to target any deeper buildup underneath the superficial dust and debris.


Pressure Cleaner
If you have a pressure cleaner in your garage, it might help with cleaning your glass balustrades. Pressure cleaners are more effective than regular hoses in delivering a stream of water under pressure that can take a lot of the buildup and residue off, sometimes without the need of using any soaps or detergents.


Removing Buildup
One of the safest methods to remove the resistant buildup on the glass fences is to scrub the surface with a crumpled newspaper. Using a newspaper instead of a scour-pad or a broom ensures the removal of the residue and grime without the risk of scratches on the glass surface. Paper offers the perfect level of abrasiveness that can safely clean glass.


Soapy Water
Alternatively, you can clean your glass pool fencing using warm water with detergent or soap added to it. Simply dip a sponge in the soapy water and rub the glass clean. Cleaning the glass surface using a microfiber cloth afterward results in a shiny glass without any liquid stains or streaks.


Spray Bottle
Mix one part methylated spirit in five parts of water and add it to a spray bottle. You can spray the glass with this mixture and clean the glass with a microfiber cloth to achieve a perfectly shiny surface.


Cleaning Stubborn Stains
Stubborn stains like bird droppings, tree sap, and hard water stains might appear to be challenging to remove, but you can remove them easily using a few household items.


Bird Droppings
To remove bird droppings from the glass surface, use a high-pressure stream of water from a pressure cleaner or hose. Using warm water will soften the droppings quickly and ensure quicker removal. For stains that persist anyway, use soapy water and newspaper to scour them off.


Tree Sap
You can remove tree sap from glass pool fencing using rubbing alcohol. Rubbing alcohol softens the hardened tree sap. Once it has softened, you can use a glass scraper to remove it, using additional rubbing alcohol as needed.


Hard Water Stains
To remove hard water stains, take a half-and-half mixture of white vinegar and water in a spray bottle. Clean the stains with a soft sponge and rinse the area with warm water to get rid of the stains entirely.