Top 4 Reasons Why a Gas Fireplace Is an Ideal Solution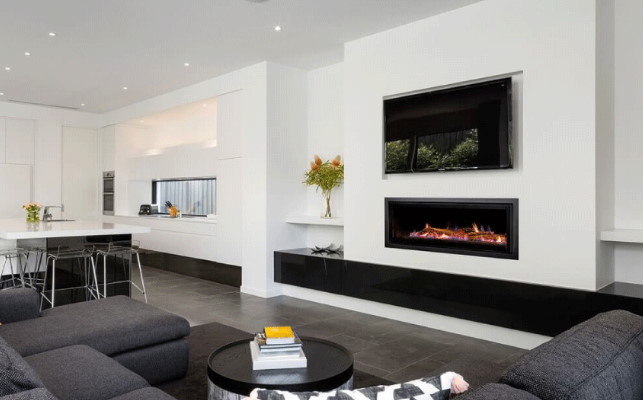 Unless you can't renounce crackling wood fire for aesthetic reasons, today gas fireplaces and gas heaters are a much more practical and efficient solution to warm up your home. Artificial blazing logs can be used to replicate the look of a traditional wood-burning fireplace elegantly enough, but nothing can substitute the many benefits offered by gas. Let's have a look at the best reason why a freestanding gas fireplace may be a significantly better choice than a wood one.
Less maintenance required
One of the reasons why
gas heaters are a popular choice
over wood-burning hearths is the effortless operation and maintenance required. Since no soot or ashes are produced, you don't need to remove them every day. A wood-burning fireplace requires regular cleaning to ensure that the chimney doesn't get clogged with creosote. Since a gas fireplace does not burn wood, no by-products are produced, and no chemical substance or oil will block your flue and chimney after condensing with water. Best case scenario, a gas fireplace requires professional maintenance just once every year.
Simpler and more convenient to use
Let me put it bluntly – not everyone can deal with a wood-burning fireplace. You must chop the wood, split it into smaller logs, find kindling, and stash them all somewhere. Even if you buy them from a retail store, you need quite a lot of space to stash enough wood to last through the winter. Even lighting the fire is not so simple, especially when logs are wet, flues get jammed, or tinder just burns too quickly to light the logs.
None of these problems are going to be an issue with gas heaters. Just turn them with a switch and enjoy the heat!
Easier to install
Gas heaters do not require a chimney to work. This is great news since it's not so easy to install a chimney, especially if you live in an apartment. Gas fireplaces can be vented through a single pipe coming out the side of your house, and some of them even work without any external venting. If you have a chimney already, or even if you have a traditional masonry fireplace, you can easily convert it by installing an insert gas fireplace inside the flue.
Improved Safety
If you have pets or children, a real fire always represents a potential threat. Embers and spark can accidentally ignite a carpet or curtain, excess heat may burn the fur of your dogs and cats, and creosote may cause a chimney fire. With a gas fireplace or gas insert, yearly tune-ups are all you need to avoid any danger. Many of them even come equipped with safety screens to avoid accidental burns. A thin ventilation layer keeps the external panels cold to the touch preventing accidental burns and other risks for those who venture too close.