HAITIAN BORN, NYC BASED POP-SOUL POWERHOUSE HERVE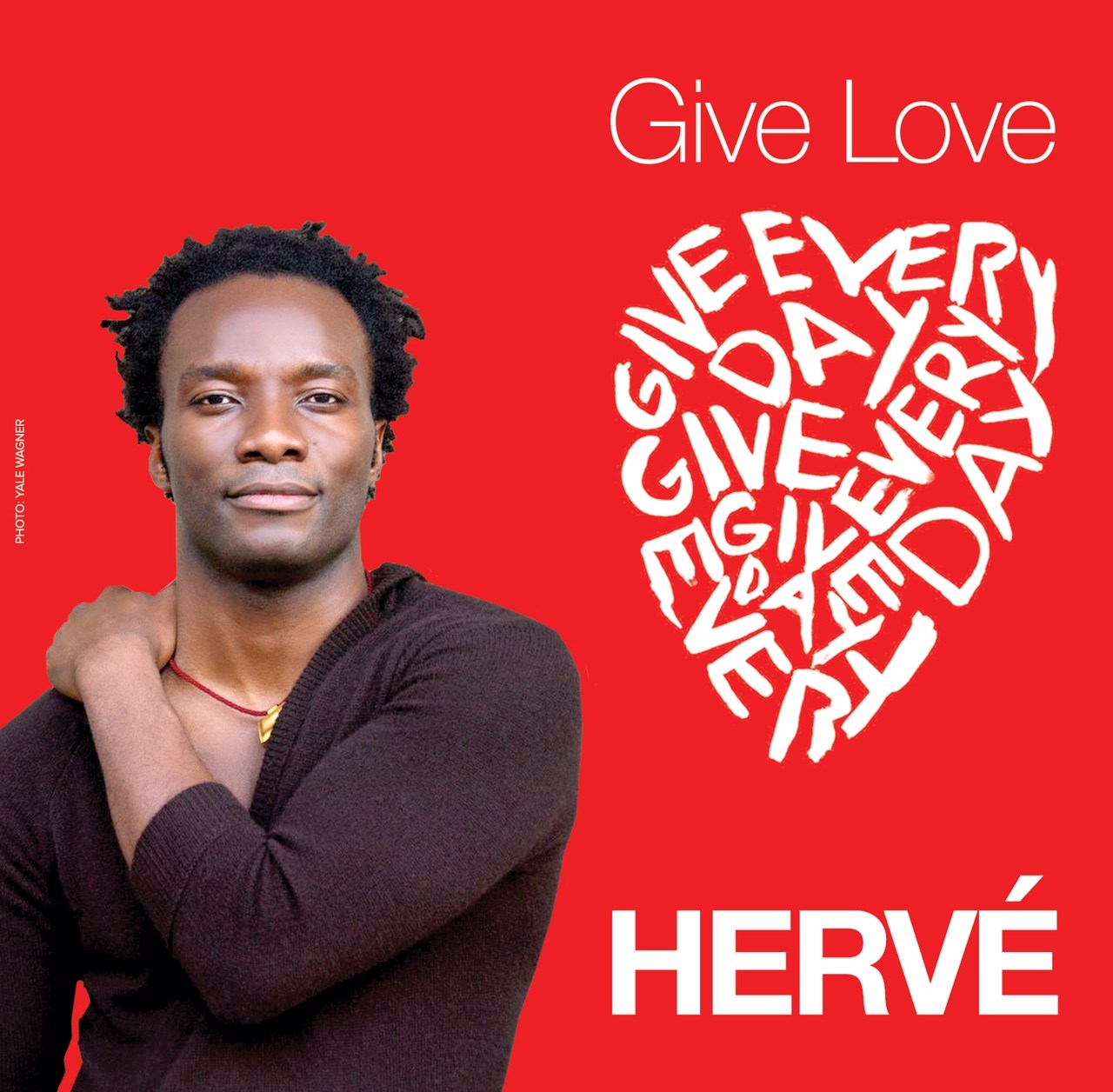 HERVE'S  NEW SINGLE SPREADS A TIMELY AND TIMELESS MESSAGE FOR A WORLD IN NEED: "GIVE LOVE"
The Multi-Talented Singer, Songwriter and Musical Citizen Of the World First Performed the Song for the United Nations In Honor of Their 70th Anniversary, Backed By the New York City Symphony Orchestra
Perfectly capturing the cultural and sociopolitical zeitgeist of our time, HERVE brings a pointed yet timeless message of hope, encouragement, courage and joy to a world in dire need of his powerful and infectious new single "Give Love."
The track is set to drop on digital platforms worldwide on November 30th.
A true musical citizen of the world, with residences in Paris, India and his musical home base of New York City, the multi-talented Haitian born singer/songwriter and pop soul artist advocates the words of the Dalai Lama and Jesus, who both spoke of love as the absence of fear and judgment.
Those kernels of eternal wisdom lay the foundation of a beautiful universal anthem driven by edgy grooves and exotic rhythms created by L.A. based producers Aden Ray and Janet Zohar.   
HERVE first performed "Give Love" in 2015 in the Assembly Hall of the United Nations, in honor of their 70th Anniversary. His memorable performance was backed by the New York City Symphony Orchestra and a world class band.
In conjunction with the single's release, HERVE will be gracing YouTube with a beautiful video shot in one of his adopted hometowns, Udaipur, India. The colorful clip blends scenes of locals mingling with the singer in the public market and majestic shots of the country's visual splendor, some featuring HERVE embracing the majestic vistas.
He is also creating a line of merchandise related to the message, including T-shirts.
The epiphany that inspired the singer to compose "Give Love" came when he was approached by a homeless man while on a stroll in Harlem. "It was a moment of clarity for me," he says. "You hear people talk about love all the time, but I thought to myself, if I ignore this person who needs my help, then what would happen if everyone just did the same? What kind of world would this become? It occurred to me that real love is not a passive notion that we just talk about, but it's an action, an expression we must constantly exercise which allows us to keep together."
"My feeling that we need to, as I sing in the chorus, 'give love every day,' is the awareness that we are required to take meaningful action," HERVE adds. "I also realize it's a responsibility that all of us have to one another. If we all became indifferent to one another's needs for love and kindness, literally all of humanity would fall apart. We cannot function or survive without it. This is what the song is, a reminder to myself, and by extension to all who listen, about what it takes to move and change the world and make a difference, one individual at a time."
With his warm, deep, ethereal voice and poetic lyrics, Coeur's music is a celebration of the spirit of the humanity.  Connecting his past to his current lives in the U.S., France and India, his music is vibrant, engaging and uplifting, allowing his audiences to transcend their superficial differences and feel the heartbeat of humanity.     
HERVE has performed at Joe's Pub at the Public, The Cutting Room, The Museum of Fine Arts in Boston, The Museum of Art & Design in New York City, The Dwyer Center for the Performing Arts, Archive Global, Fonkoze, The Bitter End, The Shrine, The Ethical Cultural Society, St. Joseph College, Columbia University and the University of Miami among others. With a growing fan base in Europe, Coeur opened for the legendary Temptations at La Cigale in Paris, and he co-headlined at the legendary L'Olympia in Paris.