SANTANA RODRIGUEZ Producer & Host "Shaping Up With Santana"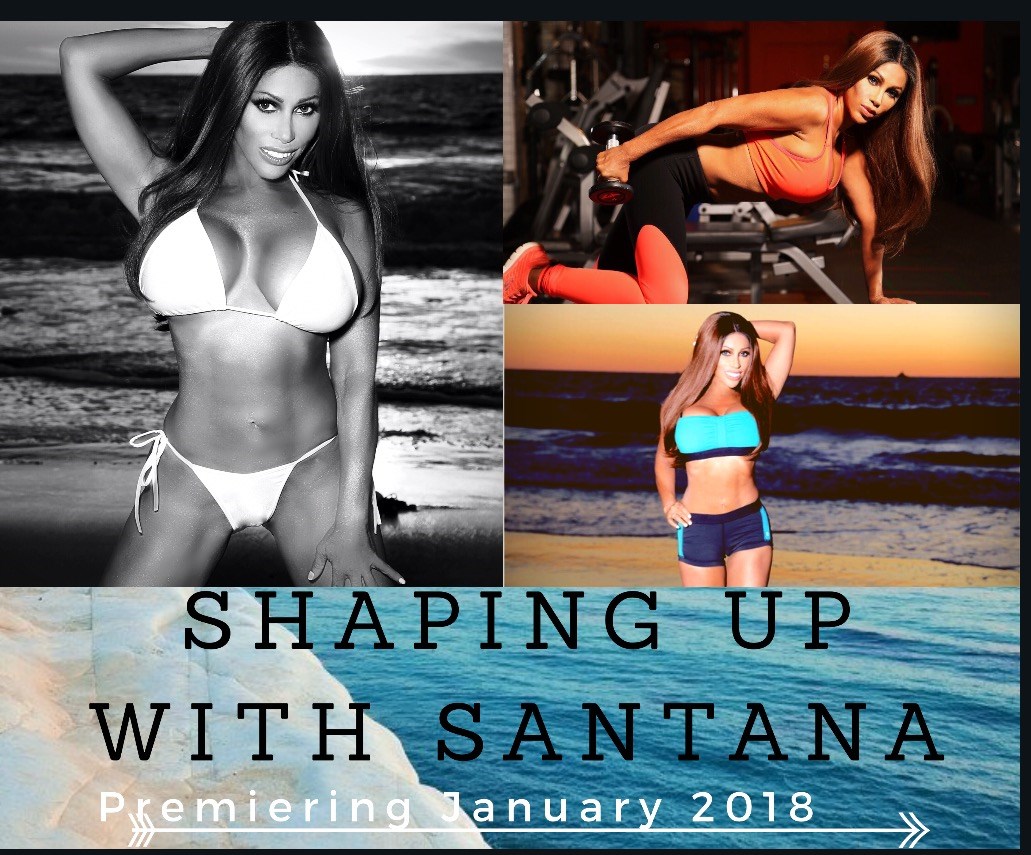 Bringing unbridled passion, soulful creativity and dynamic leadership to her multitude of endeavors over the years, Santana Rodriguez has impacted thousands of lives as a fitness champion, international print magazine model, fashion entrepreneur and television host/personality. Drawing on her experience in these realms and focused on her mission to empower people to take control of their personal health and fitness, the charismatic, Buffalo bred, Los Angeles based modern Renaissance woman is launching "Shaping Up with Santana," her first internationally distributed fitness and travel show, in January 2018.


Described by the creator, producer and host as a "basic workout 101 for fitness beginners," the 10-episode debut season of "Shaping Up with Santana" will be distributed by Newark, NJ based Tempo Networks, which will be airing the show in all 28 islands of the Caribbean and a potential audience of five million throughout NYC, Philadelphia and other regions in Pennsylvania, New Jersey and Maryland. In addition, a Fox affiliate in San Juan will be showing it throughout Puerto Rico. Viewers outside these regions can view the series via Verizon Fios, billed as the fastest internet and Wi-Fi available.


Shot in beautiful beach and mountain locations throughout Malibu, California, "Shaping Up with Santana" will air two different versions of each episode – a 22 minute program focused solely on workout and an expanded 28 minute version in which she will incorporate other related topics like important nutrition tips. With dynamic, quick cut photography that incorporates images the lush environment along with close ups of Santana illustrating each exercise in detail, the typical episode's first half will feature her doing a cardio workout with two other individuals; the second half will focus on toning exercises on a mat, essentially covering those specific to certain body parts and muscles. 


"The production values are elaborate, but the basic concept is simple," says Santana. "My main focus is to save you the time and the money a membership to a local gym would cost. People don't always have time to go to the gym, or have the money for a monthly membership – and there aren't many gyms in the Caribbean islands. Some of the exercises I demonstrate are free cardio dances that require no weights, and in other segments I use kettlebells, but explain that you can use household items like soup cans or even a big beach ball to great effect. We do a lot of simple things that people can tag onto, like jumping jacks, jogs and marches.


"Everything I do on 'Shaping Up with Santana' is geared around getting people motivated," she adds. "We're not a technical show. I want to make it as simple, straightforward, authentic and down to earth as possible. My goal is to help people to become their best physical and mental selves, but I also want them to know that they don't have to look like or feel like a perfect Barbies and Kens to enjoy and get a lot out of these workouts. People of all shapes and sizes can have fun exercising, and it's easier than they think to incorporate cardio activity and movement into their daily lives."


Although Santana gears her show to average men and women seeking a fresh perspective on exercising, she brings many years of training experience and expertise to the endeavor. After originally moving to Los Angeles to pursue acting and appearing in one film and multiple plays, she shifted gears dramatically when a friend convinced her to compete in a fitness competition. Placing 3rd in her first ever contest, Santana realized that her opportunity to become a leader and make a difference in people's lives lay not in Hollywood, but in this exciting new world. Finding renewed purpose, she began rigorous training and committed herself to perfect nutrition habits. 


Over the next few years, Santana won six major competitions and earned a national title called "Miss Team USA Modelquest" with the ABA Federation. "These were not bodybuilding competitions," she says, "but physique competitions with an emphasis on tone, symmetry and definition. It was such an honor to have carried on such a title." Santana's popularity as a fitness champion led her to appear in over 20 international magazines, including numerous layouts and editorials in publications like Oxygen and Max Muscle and the cover of Blazin', Unique, RockHardChic and the lifestyle magazine New York Faces. She was also featured in a prominent classic car magazine. 


An appearance on a music and models show in her native Buffalo led to opportunities to co-host and become a segment producer for the prominent NYC based programs "New York Rocks (on Staten Island TV) and "New York Profiles." Her work as a producer – and subsequent success working in sales in corporate entertainment and building her own sports fashion line, Santana Creations – helped pave the way for her to launch her own show and have creative control of all the aspects of its production.


Beyond her desire to give back and become a powerful role model and motivator for women of all ages, Santana attributes her ongoing success to her father, whom she calls "the strongest man I know." Her dad, who passed away two years ago, lived through two leg amputations from type 2 diabetes, prostate cancer, a broken hip, gallbladder problems and congestive heart failure. "Even though he had many mishaps, he was always a true fighter and an amazing father and husband to my mom," Santana says. "He taught me how to be the independent, confident woman I am today. When young women watch me and learn my story, I want them to know that if they don't like something they see, or face obstacles in their lives, they have the power to create something on their own. They can be anything they want to be, and they have a voice that people will listen to."


Santana is dedicating the production of "Shaping Up with Santana" to her dad for another reason as well. "He has been my greatest source of motivation and inspiration for living a healthy lifestyle, and my main influencer that led me to begin my whole journey into fitness," she says. "If only he knew then what we know now about staying in shape and nutrition, maybe he would not have suffered from so many physical illnesses. Even as his deteriorating health and my helping my mom care for him before I moved away made us closer, I kept wondering how this could have happened, Was there some mistake? 


"Creating a show like this is the best gift I could give him. I may not have been able to take away his pain, but I can influence and educate and become a role model to others so they never have to go through that. In a world where people are divided more than ever, I wanted to develop a show of unity, togetherness and love, bringing people from all walks of the world together in joining a common interest that we all have...and that is to live a healthy lifestyle. I also want to acknowledge my mom as well and say that I thank both my mom and dad for raising me the way they did, even though when I was younger, I thought they were sometimes wrong in their decision making. Even so, they taught me discipline, and as a result I became who I am today. 'Shaping Up with Santana' is my way of taking all that God, my parents and life experience have blessed me with and finding a unique way to give back."