Audible releases WEST CORK, an original true crime series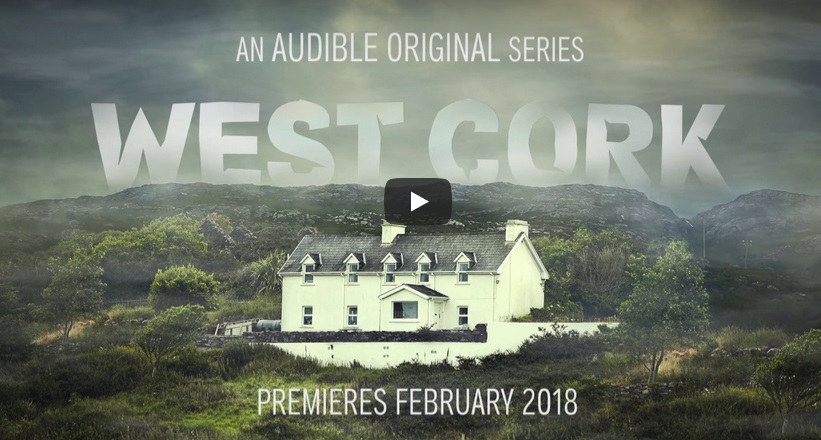 AUDIBLE RELEASES WEST CORK, AN ORIGINAL TRUE CRIME SERIES ABOUT IRELAND'S MOST NOTORIOUS UNSOLVED MURDER
ALL THIRTEEN REVELATORY EPISODES AVAILABLE TO LISTENERS NOW, ONLY ON AUDIBLE
Audible.com.au, the Australian arm of the world's largest producer and provider of audiobooks and other spoken-word entertainment, has released West Cork, an original true crime series focused on the unsolved 1996 murder of French film and TV producer, Sophie Toscan du Plantier.


Hosted by documentary producer Jennifer Forde and journalist Sam Bungey, this real-life hunt for answers explores the broad impact of the unsolved case on the small community of Schull in West Cork, a rural area in the southwestern-most corner of Ireland. The 13-part premium audio series is available free for a limited time exclusively at Audible.com.au/WestCork.


Sophie Toscan du Plantier, wife of renowned French film producer Daniel Toscan du Plantier, was mysteriously killed outside her vacation home in Schull just a few days before Christmas in 1996. Through interviews with people whose lives have been changed by the shocking crime — including her family, West Cork locals who have lived through more than 20 years of investigation and media attention, the prime suspect, and people close to the suspect — West Cork unravels the circumstances surrounding Sophie's murder. The series also includes interviews from forensic scientists, pathologists and other experts who help disentangle the complexities of the case.
"We spent three years looking into a case where even now, 21 years on, so little seems truly verifiable," said hosts Jennifer Forde and Sam Bungey. "We wanted to take listeners back to the start, to drop them in West Cork, and reveal how things played out step by step. It's a case with several competing narratives that can't all be true. We wanted to put them all side by side to see how they stacked up."
"We're confident that Audible's first true crime original audio series will transfix listeners, exploring the ripple effects of this case through powerful storytelling and real-life interviews," said David Blum, Editor-in-Chief, Audible Originals.
Jennifer Forde is a UK-based documentary television producer who has worked for many years at the BBC and some of Britain's leading independent production companies. Her credits include: directing and producing an episode of the RTS award-winning BBC series The Secret Life of the National Grid; producing an episode of Catholics, a Grierson-shortlisted BBC series about Catholic identity in Britain; and working with Louis Theroux on his series LA Stories.


Sam Bungey is a journalist based in London. Sam's previous foray into audio was a piece for This American Life called 'Murder Most Fowl', which he first wrote about in an award-winning story for the Vineyard Gazette. He started his career in Dublin with a national monthly magazine, Mongrel, and later launched the online magazine The Racket, before being recruited to Sydney, Australia as deputy editor of award-winning news site, The Global Mail.
With a 30-day membership trial at Audible, new listeners can enjoy West Cork in addition to any one audiobook, free.
Audible invented and commercialized the first digital audio player in 1997, and has since been at the forefront of the explosively growing audiobook download segment. In 2017, listeners around the world downloaded over two billion hours of Audible content.
About Audible.com.au
Audible.com.au is owned and operated by Audible Ltd.  Audible, the world's largest seller and producer of downloadable audiobooks and other spoken word content, invented and commercialized the first digital audio player in 1997, and has since been at the forefront of spoken word entertainment. In 2017, Audible.com.au customers downloaded an average of 17 audiobooks during the year, while Audible listeners globally downloaded almost 2 billion listening hours. Audible content includes more than 200,000 audio titles from leading publishers, broadcasters, entertainers, magazine and newspaper publishers, and business information providers.
In 1996, a life ends and a mystery begins.
A young French film producer.
A brutal unsolved murder.
A cunning suspect, and an Irish town full of mystery and secrets.
Twenty years later, the case will not die.
Join the hunt for the truth… in a place on the edge of reality...
Welcome to WEST CORK. 
West Cork is Audible's first true crime drama. Based on the murder of Sophie Toscan du Plantier 20 years ago – this is investigative storytelling as an immersive audio experience. Time to get your binge on.
WEST CORK
Audible Original | 9 February 2018 | Free | Audio series
A new investigative audio series – based on a true crime, the murder of Sophie Toscan du Plantier 20 years ago – from former NPR producers and investigative journos, Jennifer Forde and Sam Bungey, this is investigative storytelling as an immersive audio experience.
The series examines the chilling murder of French film producer, Sophie du Plantier, who was mysteriously killed in her vacation home in West Cork, Ireland just a few days before Christmas in 1996. Sophie made plans to visit her vacation home alone, on whim, where her body was discovered at the foot of her driveway in a crime so gruesome and strange it captured the attention of the entire country.
The 13-part series transports listeners to West Cork, Ireland, a place of inescapable natural beauty that sits on the cusp of the Atlantic Ocean, where an unsolved murder still haunts the local villagers of Schull. West Cork examines the cold case that has fascinated the Irish public, unveiling the eerie and hidden secrets of this rural Irish town.
Listeners will hear first-hand interviews with Ian Bailey, who was the prime suspect in the Garda investigation into the death of Sophie Toscan du Plantier and has been at the center of media attention for the past 20 years, along with many locals who knew and engaged with Sophie leading up to the night of the murder. The series takes an intimate look at Ian's life and the inner workings of his mind through additional interviews with friends, family and colleagues, leaving the listener questioning. "Who is Ian Bailey really, and what actually brought him to West Cork?"
The hosts masterfully tackle these open-ended questions, gripping listeners from start to finish of each episode.