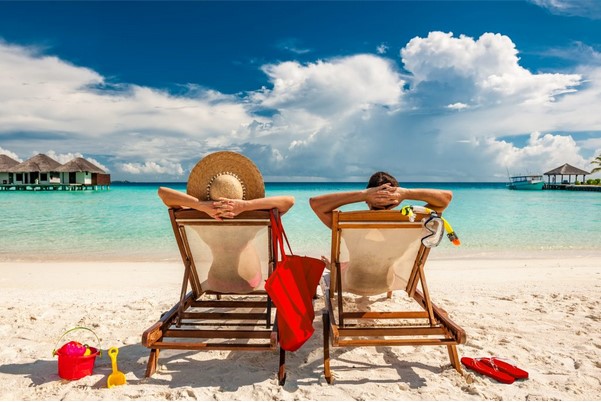 Summer is obviously the most prominent season for vacations,
fun kids activities
, and people love to go to hot tropical places and enjoy their stay at various hotels during this time. And if some still like to be more active and go sightseeing, some simply prefer to relax on the beach for most of the day. But did you know there are a few ways to unwind even on such a serene vacation? Read further for a few tips and some vacation inspired recipes!
Not to state the obvious, but sunbathing is definitely the thing you should do the very first day of the vacation. Make sure to put some sunscreen on to protect your skin from unwanted pigmentation and premature wrinkles. Then you can still have the time of your life even without leaving the beach area. Have a nice relaxing swim, read a book, order a delicious lunch to be delivered to your beach chair if it's possible. A nice crunchy refreshing chicken salad with
hollandaise sauce
, doesn't that just sound incredible? And if you want to enjoy something like this right now, here's how you make this famous French sauce.
Combine egg yolks, lemon juice, salt and pepper in a blender. Then microwave the butter until fully melted and blend the egg mixture. While the blender is still running, uncover the lid and start slowly pouring in the butter. In the end the sauce should be thick and creamy. Enjoy it with salads or any kind of eggs.
Another great activity isn't exactly tied to the beach but is also a must during vacation. When you have nowhere important to rush, just let yourself release your worries and sleep in. Open the windows and the sounds of waves will help you have the best dreams of your life.
Having a nice dinner at a beach restaurant should also be on your vacation bucket list. Let yourself enjoy the delicious food and take in the atmosphere of the place, make sure to remember this relaxing time. And if you want to take away this experience with you, try making a summer inspired
grilled shrimp marinade
or a
peanut butter cake
for a sweet delight. Both recipes don't take much effort to make but really capture the fun flavors of summer.
There're two versions of shrimp marinade: lemon and Asian. The first one is classic combination of lemon juice, olive oil, honey, garlic and spices which makes for a bright sweet and spicy flavor. The other is made with soy sauce, lime juice, peanut oil and ginger that are all the definition of freshness. The cake recipe basically replaces regular butter with the peanut version and has a rich chocolate frosting for the filling and decoration. So simple, so delicious!
Going to the movie may not be associated with beach vacations but take advantage of your free time and check out some of the latest releases with a bucket of popcorn in hand. Having fun is what's important after all!