The Nam Hai Launches AntiGravityYoga and Unveils New Serenity Structure
Written by

Jane Corbett-Jones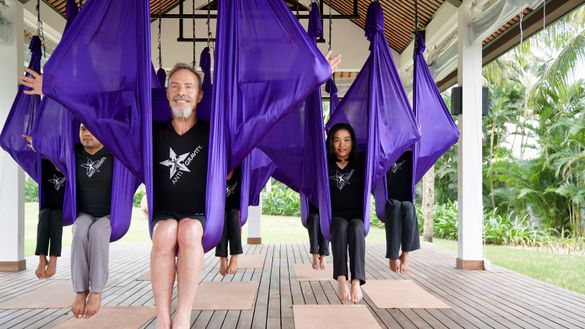 Hoi An, Vietnam – Four Seasons Resort The Nam Hai, Hoi An is elevating its wellbeing offering with a new yoga pavilion and introduction of AntiGravity® Yoga, a dynamic 'flying' yoga that encourages a deeper, more flexible connection to the self.  
Aside from its major fun-factor, AntiGravity® Yoga helps fine tune the body's balance and alignment, releases 'happy hormones,' enhances self-esteem, fast-tracks flexibility, and offers a unique soaring sensation that is wonderfully liberating.
Meaning 'peaceful', the new Thanh Tĩnh Yoga Pavilion showcases a lofty, locally inspired design that pays homage to the long, three-part Vietnamese garden homes typically found in nearby Hue. Created by Christopher Harrison, it's an entrancing elevated practice that uses hammocks suspended above the ground to master gravity-defying poses.
The spacious 130-square-metre serenity structure is set amongst shady palms in the gardens bordering the Resort's Heart of the Earth Spa and will offer group, private, and couples' AntiGravity® Yoga classes, as well as yoga, mindfulness, and meditation sessions.
A trio of monk statues – in poses that represent peace, respect, and calming wisdom – combine with the surrounding birdsong to support the design concept and enhance the pervading tranquility.
"The new Thanh Tĩnh Yoga Pavilion is the perfect setting to bring yourself back into the present moment and to experience a greater sense of peace through activities that nourish body and mind," shares Spa Manager, Dwi Susanti. "It's beautifully aligned with the philosophy of our Thich Nhat Hanh-inspired spa as every movement and moment in the hammock requires a conscious, mindful commitment. And with the change of perspective that AntiGravity® Yoga offers, guests can really re-examine the status quo, look inward, and defy their usual limitations – physically and mentally."
The Thanh Tĩnh Yoga Pavilion will have eight AntiGravity® hammocks and offer four 75-minute group classes weekly, plus private classes. It will also host 18 group yoga classes and 3 group meditation and mindfulness classes weekly – including 7 complimentary sessions – plus private classes.
AntiGravity® Yoga prices start from USD 50 per person for group sessions and USD 100 per person for private tuition. Yoga prices start from USD 25 per person (group) and USD 65 per person (private).
Discover 'flying' yoga and 'grounding' peace with Four Seasons Resort The Nam Hai, Hoi An.
Contact +84 235 394 0000 or visit www.fourseasons.com/hoian for bookings and information.
About Four Seasons Resort The Nam Hai, Hoi An, Vietnam:
Embellishing Nam Hai heritage with Four Seasons flair, Four Seasons Resort The Nam Hai is a harmonious ode to coast, culture and community in Vietnam's UNESCO-strewn centre. Once a fishing village – with a historic temple preserved on site – the Resort presents an authentic connection to the region through inspiring on-site activities, from a cooking academy and earth-attuned spa to exhilarating water sports and cultural excursions. Located on a private one-kilometre (half-mile) stretch of Ha My Beach – hailed by Forbes as one of the best in the world – the Resort is reborn under Four Seasons as a beacon of beauty that reflects the soul of Vietnam's cultural heartland and illuminates the spirit of all who visit: the culturally curious, beach purists, intrepid families, culinary connoisseurs and well-being devotees alike.

As the world's leading operator of luxury hotels, Four Seasons Hotels and Resorts currently manages 109 hotels and resorts in 46 countries. For more information on Four Seasons Resort The Nam Hai, Hoi An, Vietnam visit www.fourseasons.com/hoian or stay connected on Facebook or Instagram.