Written by Modern Australian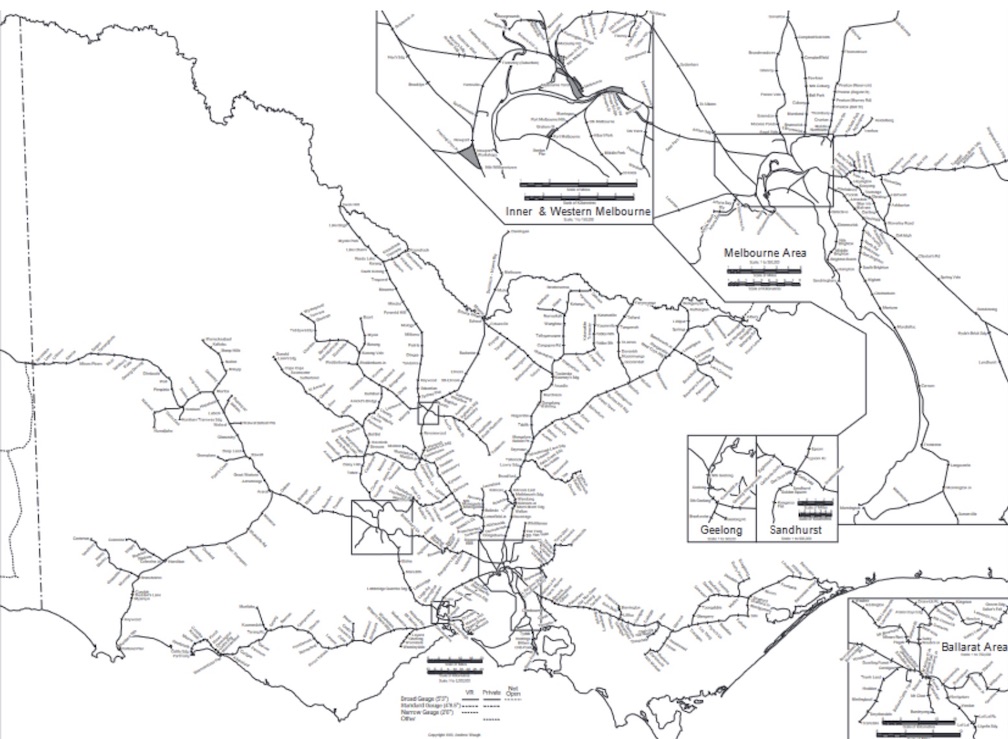 In March 1853, the first railroad tracks were laid down in Melbourne, the first tracks in a line that was to travel from Melbourne to the nearby port of Sandridge. It was a small line, only 4.2km long, intended only to transport merchandise and to improve communication to and from the dock. However, this one line led directly to a railway boom that in some ways continues to this day. Here we'll take a look at the history of Melbourne's transit system and see just how much it has evolved since those humble beginnings.
1850-1880: The Railway Boom Begins
After building their first railway, The Melbourne and Hobson's Bay Railway Company opened a second line in May 1857. This one ran from Melbourne to St Kilda, but later that same line was extended from St Kilda to Brighton by the aptly named St Kilda and Brighton Railway Company. That same year the first country line was established, with the Geelong and Melbourne Railways Company building their train line stretching from Geelong all the way out to Newport. As with the first, these train lines were initially to facilitate moving products and facilitating communication, but they quickly began taking on passengers. By the 1860s, several more lines had been built, both inner-city lines and rural lines, but they had begun to face a new difficulty, financially.
1853 Melbourne to Sandridge

1857 Melbourne to St Kilda

1857 St Kilda to Brighton

1857 Geelong to Newport

1859 Williamstown and Geelong to Spencer Street Station

1859 Footscray to Sunbury

1859 Princes Bridge to Punt Road, to South Yarra to Prahran

1860 St Kilda to Windsor

1860 North Melbourne to Essendon

1860 Newmarket to Flemington Racecourse
Not all the train lines were equally profitable, and as new train lines were developed older lines became superfluous or fell into disuse. Many of the smaller companies were struggling, but the solution was simple. All smaller companies would be absorbed by either the Melbourne and Hobsons Bay United Railway Company or taken over by the Victorian Government. But by then another issue had revealed itself. Many of the lines were disconnected, just individual lines that did one job and one job only, and there could be considerable difficulty if taking freight from one train line to another. But with the train lines still divided between two companies this proved an insurmountable divide - after all, why would competing train lines help each other? Especially if it might mean giving priority to the competition. It would not be until 1878 that all existing train lines came under the control of the Victorian government, and one of their first acts was to build a street-level link between Flinders Street Station and Spencer Street Station, connecting the two most important stations of the time.
1880-1900
During the 1870s many rural lines began to develop, following the trends of the Victorian land boom that saw investors buying huge tracts of land with the intent to develop it. In 1884 the Victorian government passed the Railway Construction Act, popularly known as the Octopus Act, in order to place legislation over the maintenance and expansion of no less than 66 train lines. However, when the Depression hit in the 1890s many of these train lines became unviable, and many fell into decline.
Country lines of the Octopus Act
Avoca and Ararat Railway

Bacchus Marsh and Gordons Railway

Bacchus Marsh Junction and New-port Railway

Ballarat East and Buninyong Railway

Ballarat Cattle Yards Branch Railway

Ballarat Racecourse and Springs Railway

Birregurra and Cape Otway Forest Railway

Camperdown and Curdie's River Railway

Camperdown to Terand and Warrnambool Railway

Coburg and Somerton Railway

Creswick and Daylesford Railway

Dandenong and Leongatha Railway

Dimboola and South Australian Border Railway

Fitzroy and Whittlesea Railway

Frankston and Crib Point Railway 15A: Mornington Railway

Frankston Cemetery Railway

Hamilton and Coleraine Railway

Heyfield and Bairns-dale Railway,

Horsham and Natimuk Railway

Inglewood and Dunolly Railway 20A. Kerang to Swan Hill

Koroit and Belfast Railway

Koroit Railway via Penshurst 22A. Hamilton and Penshurst Railway

Koroit and Warrnambool Railway

Kyneton and Redesdale Railway

Lancefield and Kilmore Railway

Leongatha and Port Albert Railway

Lilydale and Healesville Railway (via Yarra Flats)

Lubeck and Rupanyup Railway

Maffra and Briagolong Railway

Maldon and Laanecoorie Railway

Moe and Narracan Railway

Mount Moriac and Forest Railway

Murchison and Rushworth Rail-way

Murtoa and Warracknabeal Railway

Myrtleford and Bright Railway

Numurkah and Cobram Railway

Numurkah and Nathalia Railway

Ondit and Beeac Railway

Ringwood and Ferntree Gully Railway

Sale and Stratford Railway

Scarsdale and Linton's Railway

Shepparton and Dookie Railway

St. James and Yarrawonga RAilway

Tatura and Echuca Railway

Terang and Mortlake Railway

Wandong Heathcote and Sandhurst Railway

Warragul and Neerim Railway

Wedderburn Road and Wedderburn Railway

Wodonga and Tallangatta Railway

Yackandandah and Beechworth Railway

Yea and Mansfield Railway; Alexandra Branch Railway
Suburban lines  of the Octopus Act
52. Alphington and Heidelberg Railway

53. Brighton and Picnic Point Railway

54. Burnley to Junction with Outer Circle Railway

55. Fitzroy Branch Railway

56. Hawthorn and Kew Railway

57. Lal Lal Racecourse Railway

58.

Outer Circle Railway, Oakleigh, via Camberwell to Richmond and Alphington Railway

59. Royal Park and Clifton Hill Railway
Additional infrastructure
60. Murray-bridge

61. Portland Pier

62. Murray-bridge

63. Flinders-street Viaduct

64. Windsor Siding

65. Ballarat siding
66. Duplication Hawthorn and Camberwell Line
The 1900s: Electricity Arrives
In 1908 the first electric railway system was proposed. Intended to cover a geographic area of more than 200km and cater for 80 trains, it was originally slated to only take 2 years to develop and implement. However, it would not be approved by the government until 1912, and when the first world war began electrical equipment could no longer be imported. The first line would not open until 1918 - and even then it was not for public use but for driver training. Official services would only begin on the 28th of May 1919 running from Essendon to Sandringham but slowly expanded to cover the whole grid. At the same time, train lines were extended, with the Lilydale line, the Hurstbridge line and the Burnley - Darling line being extended. However this 
For the rest of the 1900s train work was slow and incremental. Minor expansions, repairs, and replacement of trains were the primary domain of the transport budget, that was until the 1970s when it was decided to modernise the train network. The Victorian government decided to get rid of their now sixty-year-old trains and develop the Melbourne Underground Rail Loop, a massive work of infrastructure that would occur over the next 14 years. At the same time old train lines were rebuilt, disused train lines were closed and replaced with bus services, and the Metropolitan Transit Authority was established to regulate all train, bus and tram services (trams having been in service alongside trains since 1884).
The 2000s: Privatisation and Public Development
In 1998, the MTA began the process of privatisation, eventually becoming the Connex network, and then in 2009 becoming Metro. In 2008, the Brumby Government authorised more than $14b to support the rebuilding and expansion of Melbourne's train network, including rail extensions, station upgrades and the Melbourne Metro Tunnel Project. An extra $562m was awarded to the state budget in 2009, but despite this work would not begin on many of these projects until May 2011 with the largest of all, the Metro Tunnel, not beginning until 2016.
Many of the expansions and adjustments proposed in 2008 are still underway and it won't be for a few more years that the railway network can be considered "complete", but no doubt in a few more decades another major expansion will need to happen again. After all, Melbourne is still growing, and more trains and train systems will always be needed.