Sydney artists are being priced out of the city – here's how to bring them back
Written by

Alexandra Wong, Engaged Research Fellow, Institute for Culture and Society, Western Sydney University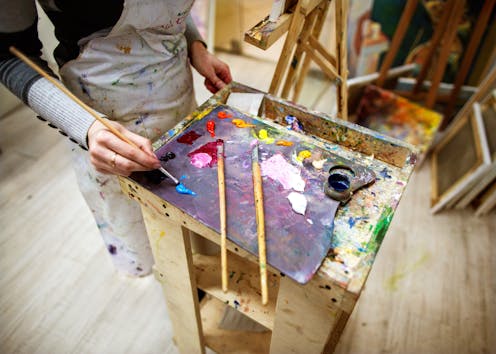 Sydney artists and cultural practitioners face growing barriers to working in or close to the city, according to our new research. This is because of a shortage of creative spaces, due to the disappearance of industrial buildings, and rising rents and property prices.
These developments affect not only individual artists, but also broader creative clusters that need to be sustained by local networks and communities of artists and residents.
The cost of living, according to Samuel Hodge from creative space Clothing Store, has led to the exodus of a whole stratum of city dweller:
Like the city itself, everyone I know is being forced out. So that's one thing: people can't afford to live, especially the artists, and anyone else who doesn't earn enough money.
We interviewed artists and cultural practitioners from 18 venues and spaces across the City of Sydney. Most were from Redfern Village (including a creative company and a commercial gallery), and Green Square Village (including a non-profit gallery and a music studio). We also looked at a TV production company in Millers Point, as well as a pottery studio in Botany.
Artists and other creatives often use former industrial buildings and small warehouses. These are usually cheap, close to the city, and operate as creative hubs. However, many are being turned into expensive, often high-rise, residential apartments. The total area of industrial space decreased by 65% in Redfern between 2007 and 2012, and by 39% in Green Square.
Read more: With support for arts funding declining, Australia must get better at valuing culture
Artists are also often compelled to accept short and restrictive leases on places to work and live. Some told us that they were given a lease lasting just a few months because the properties were subject to development or demolition clauses. The result is a great deal of insecurity, making it difficult to plan their work schedules.
Matt Branagan from Work-Shop told us: "We were in George Street … We got kicked out of there because that was going to get turned into a gym – so we were only on a short-term lease".
We also found that where spaces were available for creative work, they were more likely to be in digitally-oriented and commercial disciplines like architecture and design. The messier, more collectivist forms of experimental and industrial art are finding the inner city far less welcoming than in more bohemian times.
Dwelling values have increased 70% over the past five years in Sydney. This is a major concern for artists, who usually earn only a modest income and cannot afford high rents. Australia-wide, the average income of professional artists in 2015 was $48,400 (including non-artistic sources of income). Taking the significant costs of making art into account, the economics of creativity are clearly unsustainable.
Read more: The gender pay gap is wider in the arts than in other industries
Many artists are leaving inner city neighbourhoods as a result. As Hugh Ramage, operator of Duckrabbit said, "You know people, they can't afford to buy or even rent anymore, so lots have moved to Blue Mountains or beyond".
Non-commercial or not-for-profit cultural operations, especially those supporting emerging artists or non-mainstream cultural forms, are closing. For example, well-known creative spaces in the city, such as Lanfranchi's and Serial Space, ceased operating because the buildings they occupied were sold.
As Pia van Gelder, former operator of both venues said, "If you can't sell the work, if you're not making it for a commercial show … you can't sustain yourself".
There is a common assumption that Sydney artists can easily relocate to other parts of the metropolitan region, especially to Western Sydney. This is something of a misconception. There is already a shortage of creative spaces outside the centre, demand is rising from local artists, and inner city artists' movement to the suburbs is only making the problem worse.
We think it's time for governments and other interested parties to step in. We propose a "place keeping" approach to planning cultural venues and infrastructure that embeds key principles of inclusion and care. Partnerships across different sectors in the metropolitan Sydney region would help fill the policy gaps.
The City of Sydney has already developed an action plan for its goals in the cultural sector. These include investigating cooperative housing and working with businesses to create more artist workspace.
The NSW government could introduce, like Victoria, zoning controls to stop the loss of creative space. Or it could introduce a Community Infrastructure Levy, as the UK has done, where local authorities provide infrastructure to support development.
We also encourage the formation of new non-government bodies like the UK's SPACE, which operates artist studios in London. Likewise, there's a role here for major cultural institutions, universities, and even property developers to provide more creative space for artists. These multi-layered initiatives are essential for dynamic creative clusters to thrive, not just struggle to survive.
If we don't help our artists find good working environments, the culture of our cities will fall victim to the voracious demand for privately profitable real estate.
Authors: Alexandra Wong, Engaged Research Fellow, Institute for Culture and Society, Western Sydney University
Read more http://theconversation.com/sydney-artists-are-being-priced-out-of-the-city-heres-how-to-bring-them-back-98695