Pre - summer pampering: Australian women are detoxifying themselves in the most "kind-Ly" fashion!
Written by

Cara Barilla Educational Columnist and journalist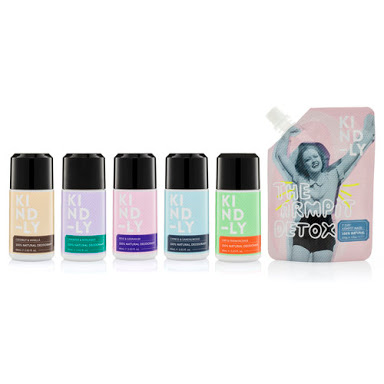 In today's society we are completely exposed to materials, products and chemicals which we unfortunately have no clue if it's origins, meaning and purpose.
Getting back to basics in a healthy-full regime may be hard for many as we are surrounded by much artificial based products and ingredients.
It's about time that we see more natural detoxing Australian based product like this one! The Australian market is relieved to see that this product is not only like no other, but has care, integrity and is Australian made!
KIND-lY - is a pure development of natural organic ingredients for the care of under your arms, which integrates essential oils such as lemongrass and ginger for raw detoxifying nutrition!
When you first apply this product you can already feel how gentle and supple the well chosen ingredients have been infused.
The detoxing product is ideal for anyone who needs a clarifying overall balance from build up and impurities. Whether you are a gym junkie, stay at home mum or in the office all day; Balancing your ph levels under your armpits can be hard though shouldn't be neglected!
Our recent survey this month has depicted that 70% of women in Sydney's CBD district don't lift up their arms in confidence! This was due to their responses such as: odour, redness, rashes, unpredictable appearance, toxic buildup (caused by irritable and incompatible product build up).
It is essential to sustain optimum inner and outer health, allowing your skin to breathe and feel fresh the right way.
You will not only feel more comfortable with how you are feeling & scented; you'll look great and have inner mindfulness that you are taking better care for your health. This will lead to more predictable results in feeling great with your arms up!
The armpit detox comes in a variety of scents to suit your preference:
Lavender & Bergamot, Cypress & Sandalwood, Rose, Lime & Frankincense & Coconut & Vanilla.
An enriched underarm organic deodorant designed by the talented team at KIND-LY has infused nourishing probiotics, essential oils which harmonised your ph levels, prevents rashes, irritation or redness which is ingeniously designed for their microbial benefits.
These products will consistently sustain a dry and odour free finish yet allowing your body to breathe and release toxins naturally.
"This product is definitely one to keep you applauding with your arms up"!
The true wisdom of inner and outer health has truly been grasped in this great Australian product. It's Definitely one to keep an eye out for!
For more information please visit:
www.kind-ly.com.au