Top 5 Places to Visit in Australia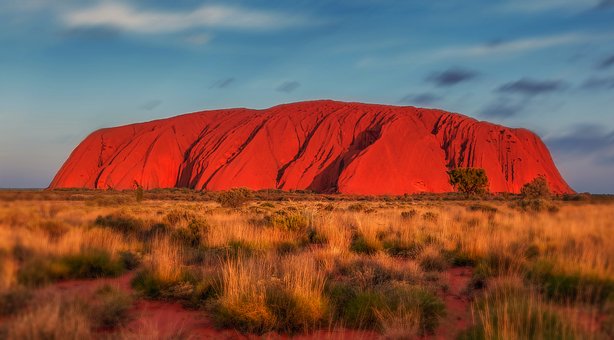 The sheer, breathtaking expanse of the Australian continent is a thing of beauty. The vast landmass is actually packed with awe-inspiring landmarks to see and countless blood-pumping activities to partake in. From the enthralling inland deserts and serene hinterland, to lush rainforests and captivating cities, this is the new promised land that will keep you spellbound every step of the way. If the trip to the Land Down Under awaits you, here are top 7 places to visit in Australia.


Uluru
Uluru stands in the middle of an endless plain. Also known as Ayers Rock, it is a sandstone formation that looks like a living creature enjoying a million-year slumber in a place where it will be least disturbed. Well, as it turns out, people are curious by nature, and you cannot keep them away from such captivating sites. It's been a sacred place to the Aboriginal people long before Europeans docked their ship on the Australian shores. As such, it's listed as a UNESCO World Heritage Site and it boasts intriguing caves and captivating ancient paintings.


Great Barrier Reef
If you're visiting Australia, an excursion to the Great Barrier Reef is considered an obligatory rite of passage. Once you truly realize how monumental this "landmark" is in every conceivable way, you will ask yourself why you haven't braved its waters sooner. Essentially, it's the world's largest coral reef system and, in a way, the biggest living organism on the planet. This aquatic mosaic is composed of nearly 3,000 individual reefs that stretch for over 2,300 kilometers along the shores of Queensland, Australia. Finding a guided tour on a ship or a ferry should not be an issue, considering the length of the shore and the sheer popularity of the landmark.


Sydney
Sydney rarely needs an introduction these days. As an urban landscape, it stands shoulder to shoulder with New York City, Hong Kong, London and Tokyo as the most recognizable metropolis with an immeasurable cultural impact. It's a cosmopolitan landscape, a kaleidoscope that moves with verve. It offers the ultimate nightlife experience. Diverse clubs and impeccable restaurants that work 24/7 dot the streets. You can also treat yourself with a breathtaking tour of whiskey tasting in Sydney at Archie Rose Distillery. High culture and low brow entertainment mesh perfectly in this city, and you should experience all of it.


Tasmania
It's hard to point out a specific area on this fascinating island, simply because every square inch of it is so wondrous. Technically, Tasmania is an island state of Australia, separated from the mainland by the 240 kilometers-long Bass Strait. The 26th largest island in the world boasts a complex biome that is comprised of endemic flora and fauna. Trekking through Tasmania's numerous national parks is like walking through a fictional fantasy world. Find suitable accommodation in the island state's capital of Hobart, located in the south-eastern corner of the continent, and have a taste of delightful Tasmania in several day-long bites.


Melbourne
Melbourne is a perfect counterpart to Sydney's tropical disposition. The former is a clean-shaven culture-capital of the continent while the latter is more of a wild and diverse moving feast. That's not to say that Melbourne doesn't boast good restaurants. The food of this city is just as renowned as its Gothic Revival architecture and the best universities in the whole world. This is a place where you can enjoy a prolonged coffee-shop sit-down with your friends or family before you venture out to stroll through impressive galleries, romantic bookshops and spellbinding curiosity shops. It's a tame face of Australia, the perfect antidote to its "feral" inland.
Each corner of the Land Down Under is so packed with points of interest that even Australian residents usually take a lifetime to discover its numerous charms, let alone tourists. It's a cabinet of natural wonders and a roller coaster ride of urbanities. If you ever get a chance to visit it, know that each of the mentioned locales is worth the trip alone. As an assembly, they pack a hell of a punch – the one that you're guaranteed to remember for the rest of your life.