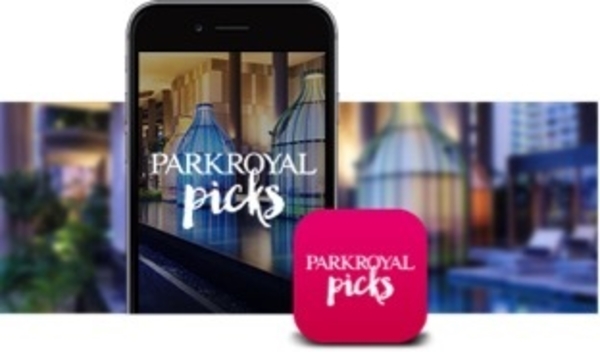 Travellers want to travel like a local and are increasingly seeking authentic experiences in the destinations they visit. By leveraging technology disruption in the hospitality space, PARKROYAL Hotels & Resorts has added further depth to its 'local connection' brand positioning to resonate even more with its travel-savvy guests. In a first-mover partnership, PARKROYAL has collaborated with technology start-up Townske to launch PARKROYAL Picks, the brand's first mobile application which offers access to more than 1,000 beautifully curated guides in the cities which PARKROYAL has a presence in. 
From the vibrancy of Sydney and Singapore to the cultural diversity of Saigon and Yangon to the culinary delights of Penang and Kuala Lumpur, these curated guides have been handpicked (hence the name, "Picks") by the most passionate of travellers and locals, as well as the hotels' concierge, who love the city they live in. Accessible on the PARKROYAL Hotels & Resorts website (parkroyalhotels.com) and available as a complimentary download on iOS and Android devices, each guide is a unique compilation of useful tips, hidden gems and best-kept secrets that only locals know – from the latest bars and the most Instagram worthy cafes to quaint little side streets and not-to-be-missed dining experiences – presented in a clean, visually stunning format.
Designed to support the hotel concierge, PARKROYAL Picks (parkroyalhotels.com/picks) also recommends nearby places based on location, which is a particularly useful feature for planning a trip and navigating the local area, as PARKROYAL guests can create a list of saved places to refer to while on the go, drawing from guides such as "Things to Do When it Gets Dark in Singapore" and "Sydney's Perfect Picnic Spots" to the "Best Seafood Restaurants in Penang".
Kevin Croley, Senior Vice President, Marketing, Pan Pacific Hotels Group, said, "We are constantly looking for new ways to strengthen the connection between our guests and the local community by connecting them with authentic experiences. We are delighted to partner Townske in this first-mover collaboration between a technology start-up and hospitality group to launch an innovative product which taps into the sharing economy to offer truly local experiences at our premium hotels, resorts, and serviced suites. Our brand promise of being "a trusted local companion" is perfectly aligned with Townske's mission to empower travellers with truly amazing experiences that only the locals know about."
Named one of five "Australian Start-ups to Watch" by Business Insider, and featured on Huffington Post Australia as one of the "Best Travel Apps for a Seamless, Stress-Free Holiday", Townske allows users to explore any city in the world by following the mini-guides of like-minded travellers.
"The new generation of travellers are demanding community-driven, authentic experiences that appeal to their interests. The old ways of offering concierge just don't work for them. With digital disruption assured in the hotel industry, PARKROYAL Hotels & Resorts is taking a forward-thinking approach in this partnership with Townske. Now PARKROYAL can offer all the benefits of a full-service hotel and also provide their guests with hyperlocal experiences that will help build guest loyalty and retention," said Daniel Clark, Townske Co-Founder and CEO.  

For vacation and holiday adventure options visit HolidayCentre.com
About PARKROYAL Hotels & Resorts
PARKROYAL Hotels & Resorts is a collection of 15 comfortable leisure and business hotels, resorts and serviced suites (including those under development) located in gateway cities across Australia, Indonesia, Malaysia, Myanmar, Singapore and Vietnam. Each PARKROYAL reflects the spirit and individuality of its location through creative touches, authentic tastes and local connections. Whether you are travelling for business, leisure, or even with the family, each PARKROYAL hotel and resort is designed so you can work in connected comfort, or relax in soothing surrounds. PARKROYAL Hotels & Resorts is a member of the Global Hotel Alliance, the world's largest alliance of independent hotel brands. For more information, visit parkroyalhotels.com.
About Townske
Townske.com is a social publishing platform focusing on city discovery. Townske is based in Sydney and operates globally. Townske.com was launched in June 2015 and the Townske iPhone app was launched in late November 2015. Townske enables anyone to create, share and discover visual city guides for any city in the world. Whilst browsing the platform, users can like guides and places that they recommend to other users. Users that are planning a trip can create a list of saved places and guides that they can reference whilst travelling. At present Townske counts over 5,500 city guides published across 143 countries in 1,511 cities worldwide. Collectively, Townske city guides have already been viewed 3,258,000 times. Townske was co-founded by Daniel Clark and Joe Vuong.
About Global Hotel Alliance
Global Hotel Alliance (GHA) is the world´s largest alliance of independent hotel brands. GHA currently includes brands such as Alila, Anantara, Art Series, AVANI, Corinthia, Doyle Collection, First, GLO, Individual Collection, Kempinski, Leela, Lungarno Collection, Marco Polo, Meritage Collection, Meydan, Mokara, Omni, Pan Pacific, PARKROYAL, Per AQUUM, QT, Rydges, Rixos, Shaza, Tangram, Thon, Tivoli and Ultratravel Collection encompassing over 550 upscale and luxury hotels with over 110,000 rooms in 76 different countries.