Improve Your Home and Create an Outdoor Room with a Patio or Porch Enclosure
Written by

NewsServices.com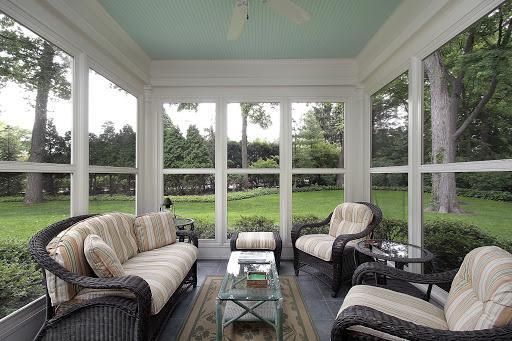 Feel like you don't quite have enough space? Enclosing your porch is an easy and cost-effective way to create a secure additional room for your household to enjoy. This space can either function as a way to further secure your entrance way, or a protected area to store expensive sport equipment, or it can be converted to a secure outdoor room.


Have you considered creating a bonus room at your home by installing a secure porch enclosure?


An enclosed porch is unique because it combines the comforts of indoor living with the beauty and openness of being outside. This gives homeowners the flexibility to use enclosed porches in a variety of ways.


There are many reasons why installing a porch enclosure can improve your property and ensure you are using your space to its full potential as well as providing your household with improved security and privacy.
What is a porch enclosure?


A porch or entry enclosure is a screened, lockable area that can add further protection to your entryway or add a bright, well-ventilated secure space outside your front or back door. These structures can be used for entertaining, or as a mudroom, outdoor protected play area, secure storage area, or any other use that you can think of. The most common use of porch enclosures is simply to create a secure entryway area to allow you to store bikes or other expensive sport equipment securely as well as ensuring your household members are able to answer the front door from behind security mesh and without full-opening the home up to a stranger.


Entry enclosures also allow you to enjoy fresh air out on your porch or patio area while being shielded from the annoyance of flies and mosquitoes. Or leave your front door open and ventilate your home naturally with fresh air without making your home vulnerable to intruders.


Secure entry enclosures come in a range of designs and are no longer created simply from bars and welded steel. Jim's Security Doors uses a security mesh that is in compliance with Australian Standards and can offer an array of designs to suit style preference and budget constraints. Security mesh that is compliant with Australian Standards has been tested to ensure strength and durability and has been designed to withstand forced entry attempts.
How a porch enclosure can benefit your home
* Improves home security, by allowing you to answer your door securely and prevents intruders being able to see into your home or gain access through force;

* Adds a well-ventilated and protected space for you to enjoy at your home;

* Protects your home from insects;

* Can be used to allow pets to access outdoor space without being able to escape; Alternatively, you can feed outdoor cats in this safe space.

* Provides a secure area that you can use to store valuable equipment.

Porch enclosures can increase the value of your home by providing an additional space that can be used as an extra room, as well as elevating the level of home protection and boosting kerb appeal.


Do you wish that you had more privacy from passers-by as well as your neighbours? Would you like to able to enjoy a cup of tea on your porch without being bitten by mosquitoes or bothered by flies. Would you like to be able to store your bikes securely on your front porch? Porch enclosures are the solution that you need!


Click here for more information about Jim's Security Doors Melbourne. Or for expert advice on security doors or porch enclosures to suit your homes, please contact our friendly and experienced sales team on 13 15 46.