Fun and Romantic Resorts in Sydney for Travelling Honeymooners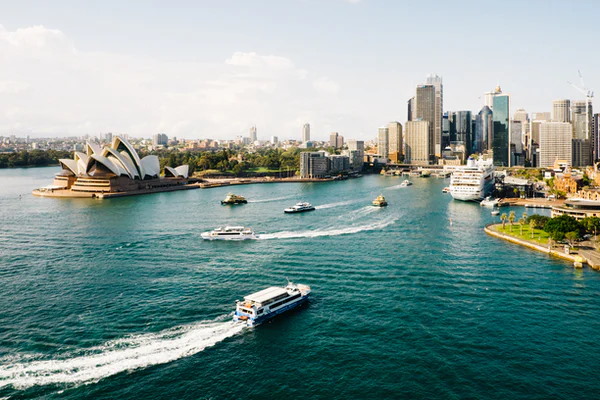 The city of Sydney is immediately recognizable due to its famous Opera House, one of the world's most architecturally unique structures
What better way to kick off married life than celebrating in Australia's most enchanting city, Sydney? Whatever you're looking for in a romantic getaway, this popular Aussie destination has got absolutely everything you need and more.
Whether that's enjoying glamorous gaming, relaxing trips to the spa, sunset skyline views from your room, or culinary delights at a restaurant on site, honeymooners will find it hard to leave this dream locale after just a few days. Here are some of the city's top-rated, amenity-filled resorts especially designed with love birds in mind.
Jonah's              
Located just minutes away from the crisp blue waters of Barrenjoey Beach, Jonah's Restaurant and Boutique Hotel is an ideal accommodation option for couples. Guests can choose from a variety of activities, such as massages overlooking the ocean, or plane tours provided by Sydney Seaplanes, where all the city's major landmarks are easily visible from above.  
The Romantic Escape, Indulgence, and Gourmet Packages are just a few of the resort's exclusive options which aim to further tailor the guest experience. Jonah's receives guests from Thursday to Sunday evening when all are welcome to enjoy the sounds of crashing waves, the smell of fresh air, and the hotel's luxury amenities.
The Star Grand Hotel at the Star Sydney
Known best as the city's second-largest gaming facility, the Star Sydney is a fabulous centre for all things entertainment and relaxation-related. Inside its walls lies the Star Grand, with 309 stunning suites that contain walls filled with intricate works of art and beds adorned with the finest cotton sheets available.
After guests have wandered through the hotel's gorgeous interiors, they can venture down to the facility's large pool and fitness centre, sign up for a deluxe treatment in the relaxing spa area, or explore the Star Sydney's 104,000 square feet of gaming space. Couples who are up for the challenge may want to participate in a game of poker at one of the centre's many finely polished tables. Although all players are welcome, it's a good idea to approach the table only after coming to a general understanding of the format which the game employs, so that each participant is on a similar page.
This includes fundamental knowledge concerning things like the game's hand rankings, for example. At the Star Sydney, the most commonly played variant is also the most popular: Texas Hold 'Em. The bottom line is, whether you choose to try your hand in a thrilling round of poker or simply watch your partner participate as you sip a refreshing drink nearby, a stay at the prestigious Star Sydney is not to be forgotten. 
Ovolo Woolloomooloo
The experience at Sydney's 5-star luxury hotel Ovolo Woolloomooloo is almost as memorable as its name. This accommodation is for those couples looking for stylish, out-of-the-box suites that are colourful and well-designed. As far as amenities go, its jam-packed full of perks such as a fitness centre with 24/7 access, complimentary breakfast, around-the-clock snacks, and a special social hour.
Located in the city's famous business district, known as "Sydney CBD," guests will enjoy being centrally located with windows that frame the immaculate skyline at night. After just one night at Ovolo Woolloomooloo, it will be easy to understand why Sydney is the obvious choice for so many. Although every room is equipped with a Smart T.V. that supports a diverse selection of streaming services, chances are you'll be too involved with the hotel's many activities to even notice.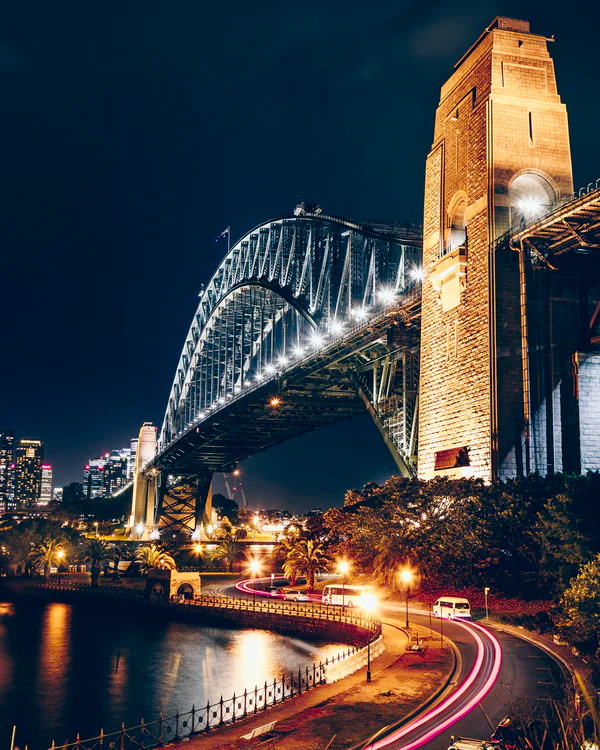 The Pier One Sydney 5-star hotel is set alongside the gorgeous expanse of the city's Harbour Bridge, pictured above at night
Pier One Sydney Harbour
Last but not least, the Pier One Sydney Harbour hotel is one of the city's most attractive choices for honeymooners due to its spectacular views and central theatre neighbourhood. It's the ideal location to venture back to after a night on the town or a stroll across the dazzling Harbour Bridge.
Couples can attend nearby performances at the Sydney Theatre Company after enjoying a delicious meal from one of the resort's on-site restaurants. Since the bridge is lit up at night, lovers can walk hand-in-hand, looking out among the shining waterway that flows through the city. Inside, visitors will notice that rooms are filled with high-quality products from top-rated Australian-founded brands, so that guests can enjoy a genuine taste of the Land Down Under during their special trip.