What is zinc oxide, and how does it protect your skin from the sun?
Written by

Victoria Sandison from Ocean Australia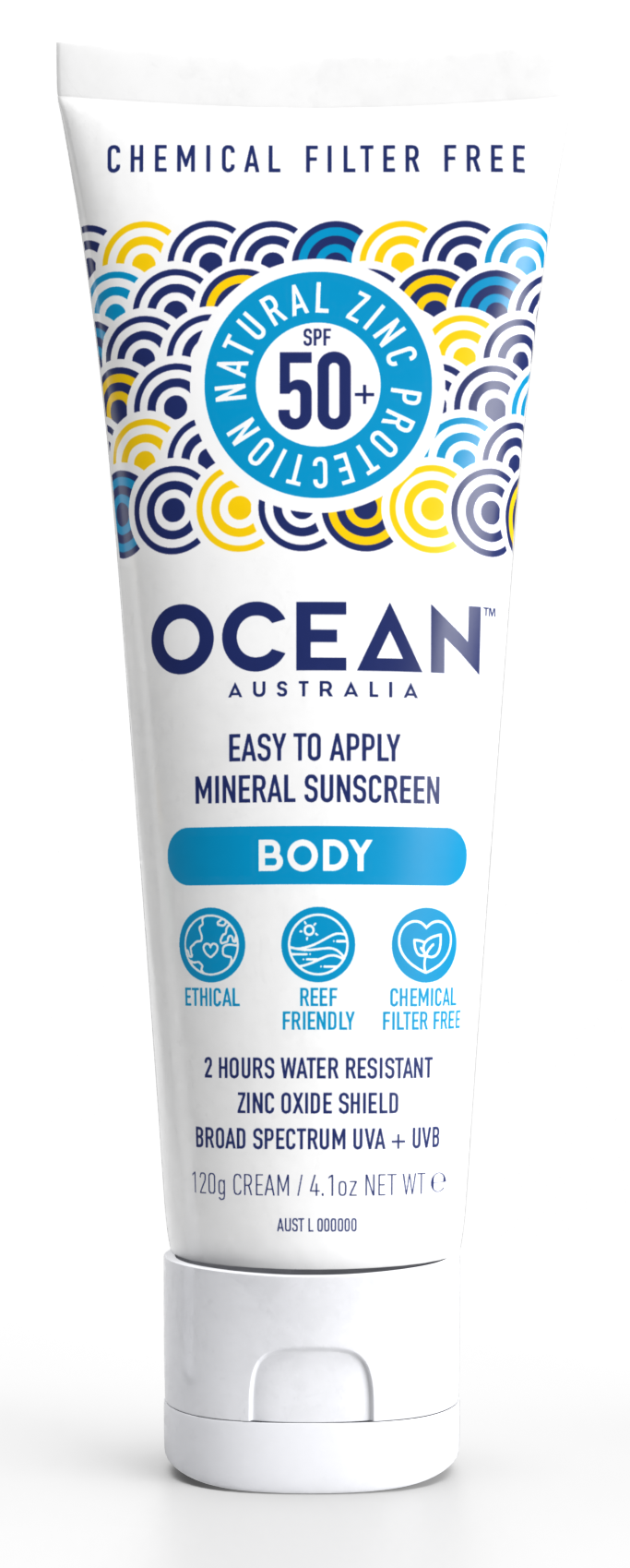 We're all becoming more aware of the importance of sun protection. But with many different brands, types and options available, choosing the right sunscreen can be overwhelming.
Chemical or physical? UVA or UVB protection? SPF30 or 50? Will an own-brand product do the trick, or does more expensive mean safer?
One of the hottest topics within sunscreen right now, though, is chemical vs. physical sunscreens and, in particular, zinc oxide-based physical sunscreens.
What does that even mean?
It's not as scientific as it sounds. Put simply, chemical sunscreens are absorbed by your skin and rely on a chemical reaction within your skin to neutralise the dangerous rays. Physical, zinc oxide-based sunscreen sits on your skin's surface and reflects those rays before they can enter your skin.
Zinc oxide doesn't sound natural...
It might not sound like it, but zinc oxide is derived from zinc, a naturally reflective mineral that's already present in every cell in your body. Inside the body, zinc is essential for a healthy immune system and is an important part of healing wounds. So it's no surprise that it's so beneficial when used externally, too!
Zinc oxide is also non-comedogenic, which means it's oil-free and won't clog your pores. Combined with its antimicrobial (healing) properties, this makes it a great sunscreen choice for all skin types, even those with acne or redness and rosacea caused by sensitive skin.
Is zinc oxide the only mineral option?
There are also many mineral sunscreens that use titanium dioxide, which shares many of zinc oxide's protective properties. However, whereas zinc oxide naturally blocks
out both short and long UVA rays, and all UVB rays, titanium dioxide blocks out the short-wave rays only. Zinc oxide is widely recognised as the ingredient that naturally provides protection against the broadest range of ultraviolet (UV) rays.
Okay, I'm sold. What else do I need to know?
Unlike chemical sunscreens, you don't need to wait 20 minutes between applying zinc oxide products and enjoying the sunshine. Because zinc oxide is a physical blocker, it works as soon as you apply it. And we're all for spontaneity!
Finally (and this is a biggie, since Hawaii announced plans to ban the sale and use of certain ingredients found in many chemical sunscreens from 2021), zinc oxide sunscreen is kinder to marine life because it does not rely on harmful chemical compounds, which have been shown to contribute to coral bleaching, to keep you sun-safe.
Not only is zinc oxide naturally the better choice for your skin, whatever your skin type; it's the right thing for the environment, too.
Choose zinc, and enjoy your time in the sun without a care in the world.  https://oceanaustralia.com.au/