The Ultimate Annual Home Maintenance Guide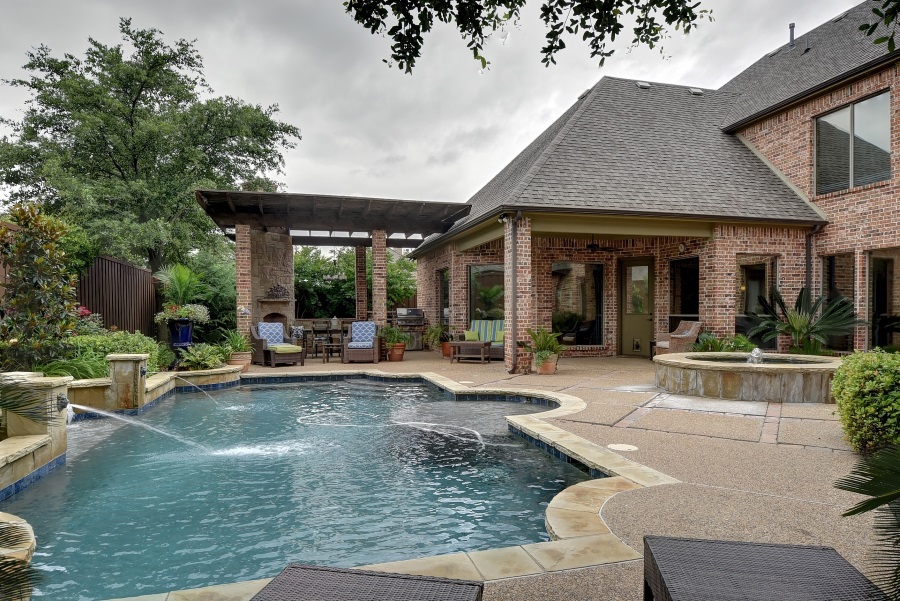 We all know that specific maintenance tasks need to be done on a regular basis to keep our home looking good and running the way it should. We also know that letting certain things go can lead to more costly repairs in the future.
Yet, given our busy schedules, the list of what needs to be done can seem overwhelming. Somehow, these tasks seem to get shoved aside. After all, who wants to spend their Sunday afternoon cleaning gutters? Home maintenance tasks do not have to feel overwhelming if you break it down into sections. We have provided a breakdown of what needs to be done by area and season to make it a bit easier.
Front and Backyard
Giving your front and backyard some TLC can completely transform the feel and look of your home. Particularly if you want to create a welcoming entrance to your home. Here are some front and backyard tasks to check off on your yearly maintenance:
Inspect any garden features such as retaining walls, borders, patio pavers, fountains

Check for any plant material that needs to be maintained or replaced

Look at your home from the street with a critical eye for curb appeal

Clean up any debris such as fallen leaves and branches
Inside Your Home
Inspecting the inside of your home can be a massive job. This will include maintenance of all your bedrooms, bathrooms, kitchens and any other living spaces. Giving your home a deep clean can also drastically change the atmosphere of your home. Here's some important tasks to consider when starting that internal inspection of your house:
Give your plumbing a proper inspection for leaks and broken parts

Make sure your sump pump is working properly

Check your smoke alarms and carbon monoxide detector monthly

Inspect electrical cords and outlets for wear

Check your furnace filter and replace it if needed

Check your water softener and replenish the salt

Vacuum heat registers and vents

Clean and inspect attic vents

Inspect and repair any caulking around your tubs, showers, and sinks

Clean range hood filters with a degreaser

Clean your garage as there might be hiding hazards you can't see
Outside Your Home
Maintenance of the exterior of your home can be a comparable big job, just like maintaining the inside of your home. This could also be a great opportunity refresh the outdoor furniture and décor. Inspecting some areas such as your roof or gutters may be a dangerous job if you're not experienced or afraid of heights, that's when hiring the relevant professional is a safe option.
Inspect the foundation

Inspect the driveway and sidewalks

Look at your roof and check for any broken tiles

Clean your gutters

Inspect Exterior paint

Wash the exterior

Pool opening tasks

Inspect your chimney

Inspect and clean your gutters twice a year

Make sure that your sprinklers do not have any holes

Clean debris from window wells
Best Jobs for What Seasons
If a yearly maintenance isn't enough to keep your estate looking it's best, perhaps a half-yearly inspection is a better option for you. Below are some maintenance tasks broken up into different seasons.
Spring
Have your trees inspected and trimmed by a certified arborist

Rake up any remaining leaves

Check your outdoor faucets and sprinkler system for damage

Put away your snowblower according to manufacturer's instructions

Check your lawnmower and have it serviced

Inspect and clean your gutters

Get a pre-cooling season inspection of your HVAC system

Vacuum heat registers and vents

Remove the insulation from the sprinkler and outdoor faucets

Lawn fertilization

Inspect your sprinkler system

Repair window and door screens

Make sure all windows open and close properly

Clean debris from window wells
Summer
Check to make sure outdoor air vents are not blocked

Flush sediments from hot water heater

Clean mineral deposits from faucet aerators

Clean the garbage disposal

Inspect tub and shower drains for clogs

Replace any old and drafty windows

Power wash siding and windows

Repair any driveway or sidewalk cracks

Make any siding repairs

Replace smoke detector batteries

Have your home inspected for termites and pests

Clean your garage and any outbuildings
Fall
Give your gutters and end of fall cleaning

Get a pre-heating season inspection and service of your HVAC system

Replace your furnace filters

Vacuum heat registers and vents

Rake leaves and aerate lawn

Have fireplace and chimney inspected and repaired

Winterize and drain exterior plumbing

Thoroughly clean the carpets

Clean door and window screens

Vacuum the dryer vent

Inspect water heater for leaks

Lawn aeration

Inspect and seal tile grout
Winter
Wrap insulation around faucets and pipes in unheated garages and outbuildings

Cover your outdoor air conditioning unit

Inspect basement for leaks after thaws

Inspect roof, gutters, downspouts after a storm

Vacuum exhaust fan grill in bathrooms

Vacuum freezer and refrigerator coils

Clean drains in shower, tub, sinks, dishwasher, floors

Replace smoke detector batteries

Winterize your home and check for any air leaks or drafts

Inspect your fire extinguisher and have them properly filled

Check all locks and deadbolts to make sure they are working properly
Putting This List into Action
Of course, not all of these items will apply to you, and you might have others that you need to add. The best way to use this list is to make it into a calendar or seasonal list. Don't try to tackle the whole list at once but break it into one or two tasks at a time. Some of these items might only take a few minutes to complete, and then you can check them off quickly.
Getting these items taken care of in a timely manner can help you to avoid big repair bills and give you peace of mind. Keeping up with tasks on a regular basis keeps them from becoming overwhelming, which means that you can spend your Sunday afternoons enjoying life instead of doing big home repairs.