Written by David Littleproud MP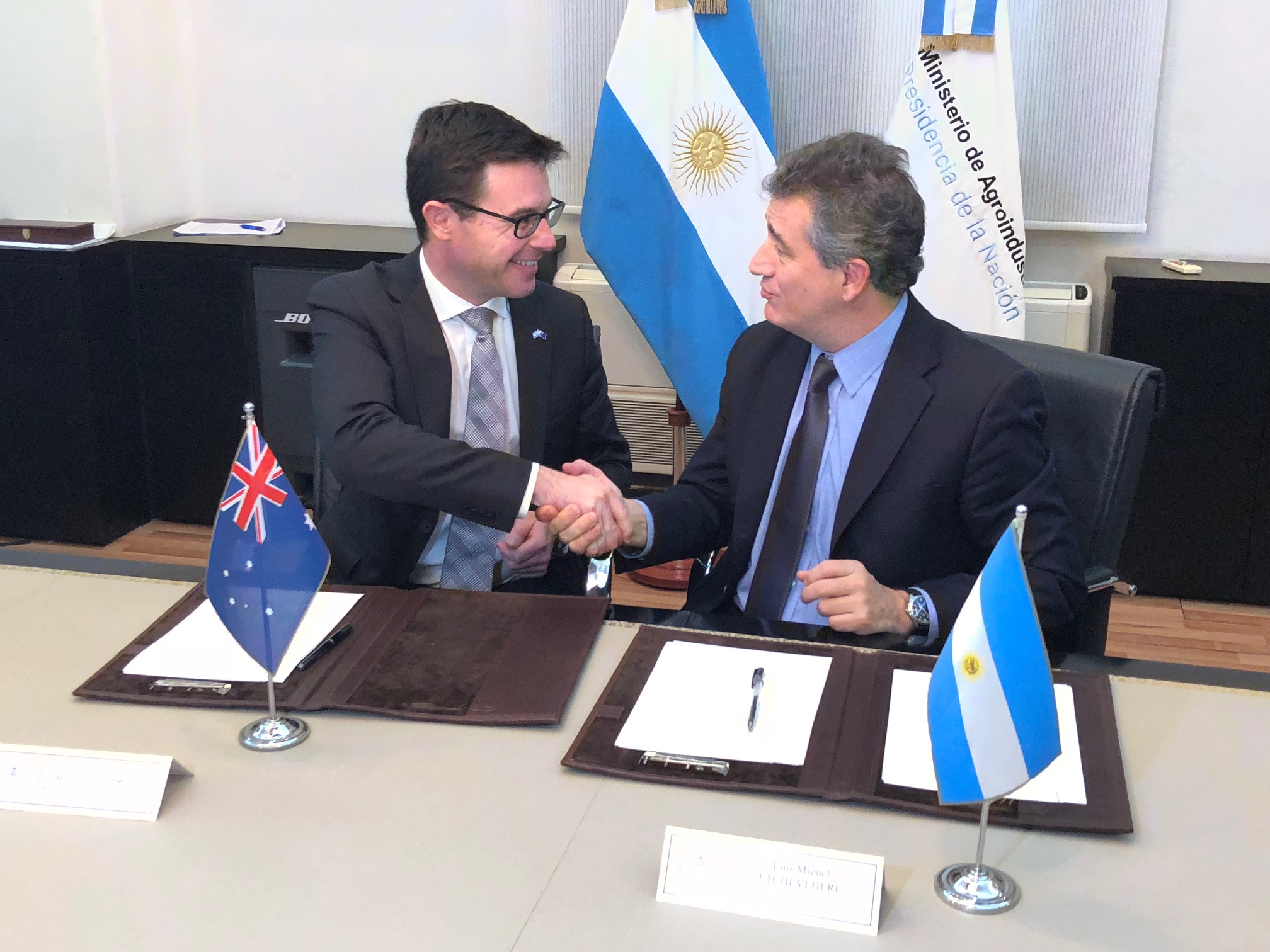 Australia and Argentina overnight committed to stronger agricultural engagement and cooperation, convening the inaugural Australia-Argentina High Level Agriculture Dialogue in Buenos Aires.
Minister for Agriculture David Littleproud said the meeting showed both countries agreed building partnerships and increasing engagement on complementary interests will benefit both nations.
"Australia and Argentina are both big agricultural players in the Southern Hemisphere and historically we have been competitors," Mr Littleproud said.
"The signing of the Joint Statement is a huge step towards collaboration. We have similar challenges, including farming in varied climates, effectively managing water resources and improving farm productivity to ensure our industries remain sustainable. 
"I look forward to working together in agricultural technology, research and development, biosecurity and water resource management.
"Australian agriculture has grown under the Coalition Government despite the challenges of a variable climate. To maintain growth we will depend on innovation and new technology and we can learn a lot from Argentina as a leader in R&D.
"Agriculture is so important to our two nations and we are both keen to build trade.
"As part of our commitment to the bilateral relationship, Australia will have dedicated agricultural counsellor in South America from 2019, helping to get our Aussie produce into those markets."
Minister Littleproud also represented Australia at the G20 Agriculture Ministers' Meeting in Buenos Aires, to highlight Australia's contribution to global food supply and the importance of global value chains for boosting rural prosperity.
"Almost two thirds of our agricultural, fisheries and forestry exports go to G20 members, worth a combined $37.6 billion, so maintaining these trade relationships is essential," Mr Littleproud said.
"This year's theme of a sustainable food future with a focus on good soil management was a great opportunity to share Australia's strong commitment to natural resource management as a key driver of productivity."
Fast Facts:
The Australia-Argentina High Level Agriculture Dialogue is the first of its type between Australia and Argentina.
Minister Littleproud co-chaired theHigh Level Agriculture Dialogue, which builds on principles set out in the Memorandum of Understanding (MoU) on Cooperation in the Agriculture and Livestock Sectors, signed by Australia and Argentina in 2015.
The visit to Argentina is part of a two week trip that also included the United States, Mexico and Brazil.
The trip provided an opportunity to meet with ministerial delegates, push for greater market access for our farmers, promote Australian agriculture, improve trade relationships and discuss further collaboration.
Minister Littleproud also presented a statement to the G20 Agriculture Ministers' Meeting in Argentina, highlighting Australia's contribution to international agriculture and importance of collaboration and global value chains.