How to Choose the Best Colors for Your Bedroom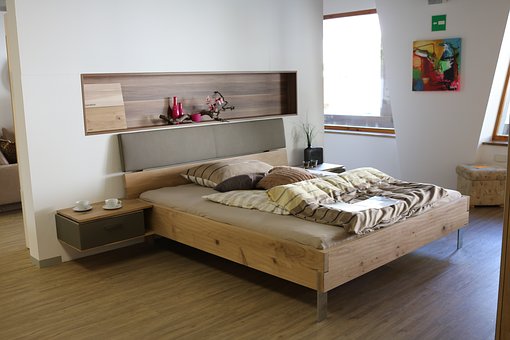 When decorating your home, your goal should always be your own comfort. You want your living space to reflect your personality and to feel relaxed and happy when you're there. This is especially true for your bedroom. Out of all the rooms in your home, this is the most intimate one, the one where guests don't go in and the one where you unwind at the end of each and every day. With all of that in mind, if you're renovating your bedroom, choosing the colors for your walls is one of the most important decisions to make. In case you're indecisive or don't really know where to begin, here are some useful tips for you.


Consider the size of the room
The choice of color can make a room appear larger or smaller, so consider its size and what you want to achieve by painting the walls. For example, if your bedroom is a small one and you want it to look bigger, you should go for cool tones, such as blue, purple or green. Whether you're painting the whole room or just an accent wall, these colors create the illusion of distance between your eyes and the walls, adding some size to the room. However, if your bedroom is a big one and you want to make it cozier, you should opt for warmer colors, like shades of yellow, red or orange. These are a great option for any room which is long and narrow, since painting the far end wall in one of these colors will make it seem like the wall is closer than it really is. This way you'll actually create some spatial balance in your room.


Take lighting into account
The number and the size of your bedroom windows should be one of the factors to take into consideration when choosing the colors for your walls. Rooms with a lot of natural light will be brighter and appear bigger, which may influence your choice of color. Furthermore, you might want to choose warm colors for a room with windows facing north or east, since these rooms will seem cooler. On the other hands, if your bedroom windows are on the south or west side of your home, the room will feel warmer and cool colors will probably be a better choice. A good idea would be to test the colors. Paint a patch of your wall near a window or around your lighting fixtures in a color you like and live with it for a couple of days to see what it behaves like as the light changes. Once you're sure it's the color you want, get the highest quality painting services for your bedroom, so that you know the job will be done professionally and right on schedule.


Complement your furniture
Your walls aren't the only thing in your bedroom, so you should think about what they'll look like when combined with your furniture, carpets and artwork. Although the color of your walls doesn't have to match the color of your furniture, it should complement it. If you go for a color that has nothing in common with the things in your room, it may look hectic and disorganized, which is not what you want for your bedroom. So, if your furniture is white, you may want to consider calming colors, such as lavender or some lighter tones of blue, while cream or beige will work well with darker furniture colors, like brown or black. If you want a splash of some bright color, you can paint an accent wall, or you can add it through some decorative elements, such as bed throws, cushions, curtains or rugs. And in case your furniture color is a bolder and more cheerful one, make sure your walls are painted in a complementary color, like green in combination with red, or blue combined with orange.


Changing your wall color can give your whole bedroom a completely new feel and set a different mood. This can be a fun process, so try to enjoy it and choose colors which will make your character pop through your bedroom décor.