Everything You Need for A Camping Trip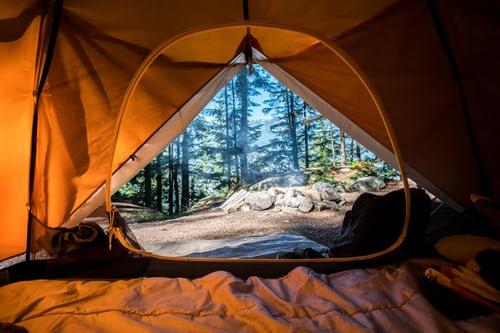 Camping can be an interesting family adventure or a fantastic getaway with your friends. Regardless of the company you choose for the trip, you need to be well prepared for spending a few days out in the wilderness. If you've found a good camping spot and you're starting to pack your bags, we're here to provide you with the ultimate camping essentials list that you must have with you when you go camping.
Solid tent
Investing in a big and sturdy tent is essential if you're an avid camper. The weather can be very unpredictable, so you should be safe from the rain and wind. It's also crucial that the tent keeps you warm and as secure from animals as possible. Even if there are no indications of bad weather, you should still spend the night inside a shelter. Don't risk waking up with hypothermia or covered in snow just because you wanted to spend the night under the stars.
Sleeping bag
Staying warm is the most important thing when camping. You don't want to catch a cold or something worse and turn a potentially amazing adventure into a nightmare. Therefore, be sure to pack a warm sleeping bag with you too. Temperatures tend to drop a lot at night, so make sure you have warm clothes with you even if you're camping during summer. The mountains can be relentless and the last thing you need is ending up in bed with a fever just because you refused to pack well.
A full arsenal of tools
When camping, you'll need all the tools available to help you manage in the wilderness. First of all, you'll need to light a campfire for the ultimate camping ambiance. That's why you'll need everything from a flint and steel to a box of matches, and even a cigarette lighter. You never know which of the mentioned tools will experience a malfunction, so always stay prepared. Make sure you have a reliable switch blade knife with you, to help you with all the cutting and slicing needed. In case you run into an animal, it may help you defend yourself. Another tool you could make good use out of is the camping hatchet.
Enough food and water
You should also have enough food to keep you going through all the possible hiking or mountain climbing during the day. You can always choose to hunt too, but that option is never guaranteed. You don't want to starve yourself for days on end, so be sure you bring food with a long shelf life. Canned goods, bread, bars, and trail mix will be good. Freeze-dried camping meals are a good idea too because you can cook them on the trail if backpacking. If you plan on cooking something, don't forget to bring appropriate cookware.

Fishing can be easier than hunting so there's no harm in throwing a travel rod in your backpack just in case.
First-aid kit
You can never be too safe when camping, so pack a first-aid kit as well. You need to know that you'll be alright in case of a small accident. Emergency rooms and ambulance won't be able to run to the rescue, so you need to be sure you can patch up yourself in case of mild injuries. Blisters, small cuts, scrapes, and other minor wounds can easily become infected unless treated on the spot. Therefore, check your first-aid kit to make sure it's fully equipped with bandages, scissors, and all the other essentials. Are adhesive, gauze, soap, a CPR mouth barrier, and an emergency whistle all in one place? Add bottles of sunscreen and insect repellent, and the kit is ready to go inside your backpack.
Spare clothes
Just as you'll need warm clothes to keep your temperature normal during the night, you'll also need spare clothes to change into during the day. Excessive sweating, smudges, and stains from camping activities are just some of the "beauties" of camping. Don't stay in your sweaty clothes and catch a cold once the evening wind starts blowing, but bring enough tops and bottoms to change into during the day. The same goes for underwear, footwear, and sleeping clothes.
Are you planning to go camping in the summer? To be sure you're all covered, put together a list of the previously mentioned essentials. All of the above-mentioned items are going to make your camping comfortable and safe. More importantly, it'll allow you to have fun because you'll know you have everything you need to go through a thrilling weekend with your friends and family.